GLYDER
Ireland's Glyder tap into a rich heritage of blues into rock performers and they show their influences from Rory Gallagher to Thin Lizzy.
They have become GRTR! favourites championed by Reviews Editor Jason Ritchie who has tracked their progress from their debut release in 2007. The band also appeared on our 'Rising Stars' CD in 2007.
Here Bat Kinane, the band's guitarist and songwriter brings us up to date with their activities...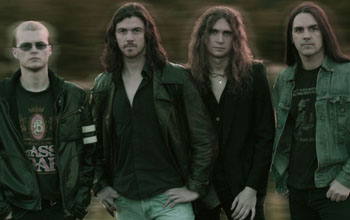 Could you tell us what are you currently up to?


We have just released the new album but hope to record a follow up the end of the summer if possible, It's still hard to know how the rest of the year will pan out but it should be good!


Could you take us through the songs on the new album 'Yesterday, Today and Tomorrow'


The first two tunes written were "That Line" and "One of us" . The chorus riff in "That line" was out of another tune that I wrote and Tony took it and rewrote the rest of the tune. "One of us" originally had my Lyrics and Tony rewrote them but kept the chorus I'm very proud of the riff in it.

As Tony wrote the words on these I'm not exactly sure what they are about!! Davy wrote "Innocent Eyes" and we reworked it between us and made it into what it is now, I'm not sure what that's really about either!

"Knockout" is a tune I wrote about the famous fight "The rumble in the Jungle" with Muhammad Ali. "Jack Strong" is a tune that I wrote when I came back from Nashville last year and is about a bar room brawl. It wasn't intended for Glyder as I've been writing other stuff too but we gave it the Glyder treatment and it fits in nice!

"Make a Change" is a song Tony co-wrote with Pete. It's about frustration giving all you've got and not getting a lot back in return, I guess that's the story of a lot of bands and musicians.

"Back to the Water" is a Tony Composition, about childhood memories, its a grower of a song and I'm enjoying playing it live. "The bitter end" is a tune about an old school friend of mine that died as a result of drugs. It's bitter sweet sounding and some people say it sounds a little like the Manic Street Preachers, I guess that's the feel of it.

"Always the Loser" is an amalgamation of some of Pete's riffs and some of mine and Tony and I wrote a verse each. It has a shuffle feel and is like something you might have heard on our first album.

The title track is a tune I wrote about where we are from and our heritage and ancestry and how it leads us to our destiny.

"Time to Fly" is a proggy number I wrote and is about having confidence and about being positive.

"All you've Done" is written by Pete and its about someone who is looking after people who are near death and how it affects them.

"Elvertown" was composed by Pete and is a really moving piece of music, It reminds me of Ennio Morricone and all those old Clint Eastwood classic westerns.

You toured with Y&T. How cool was it to get Y&T's Dave Meniketti to guest on the album? Did he record his parts with the band or via the internet/email?

Yes, Y&T are a great bunch of people, we are very honoured to have Dave Meniketti on the album, He recorded his part at his own studio and emailed it to us. It amazing what technology can do now.


How did the album launch night go?


The launch was fantastic and we played the whole of the new album as well as the best of the first two albums and EP after. I guess its the last time some of those songs will ever be played live. We now have a big repertoire of songs to choose from and some songs work better in a live situation than others.

Like the late, great Thin Lizzy the band are not afraid to try new musical avenues, for example this album has more keyboards than the previous two albums.

Do the band keep looking for new musical ideas and is there any chance of more epic songs maybe in the future like 'Weather The Storm' of the EP of the same name?

That's the way I've always felt about Glyder, we are the sort of band than can really do what we like. We have a broad range of influences and we all like different types of music aside from the Classic rock stuff so its nice to incorporate those ideas in.

We have a keyboard player for some gigs and now for recording. John Mulrooney is his name and he is one of the most sought after keyboards players in Ireland.

As well as being a fantastic musician he is a sound guy and a total rocker which is unusual for keyboard players. I like epic stuff and would love someday to do an album that is just one big piece of music with a theme.


How did the band hook-up with SPV? What plans have they got for the album and do you think they can help you break into mainland Europe more given their reputation in Germany etc.

I sent them a few songs from the album and they loved them so they signed us...simple as that!!

They are working hard at promoting us and we are very excited about getting out in Europe. I guess we have been one of those bands that have had to fend for ourselves.

Some bands start off with boutique managers and people of influence behind them, we have always run a tight ship and that has allowed us to survive in the industry but it is more difficult to get attention and good tours that way but I've always been confident we are a great band and have something great to offer.

We now have management based in Sweden and are focusing our attention on Europe. It's hard in the UK and I think the UK is too caught up in what bands look like rather than what they sound like...

I mean when someone like Geoff Barton says in Classic Rock mag we are dated what can you do!!! I'm not worried, we are busy here in Ireland working as musicians either writing or performing, filling in with other bands or whatever so we are starting to get along nicely so we will keep pushing Glyder until it breaks through and we will keep our ship tight and stay afloat!

Are there any other newer bands out there who have impressed you?

Yeah there are lots of classic rock style bands in Ireland. Of course there is The Answer, Jaded Sun, Stormzone and Million Dollar Reload but there are loads of other great ones too.

Check out Bandwagon who have an amazing talented guitarist/singer Phil Edgar and a band called Saviours Of Sin who will be great in time and there is a healthy scene especially in Northern Ireland where there is a top class venue called "The Diamond Bar" run by Derwin McFarland. He is doing a lot to cultivate a great scene by running a club that gives quality hard rock acts a place to play to good audiences.


Have you seen an upswing in the interest in metal and rock over the past couple of years? Has the internet helped get your music out there or in some ways e.g. illegal downloads has it made matters worse?

Yes of course and I guess we are part of all that as the web allows people to enjoy all styles of music. Before you had to buy magazines etc to keep up with things but now you just go online and find out what you like and decide for yourself.

The illegal download debate is very complex. While the net has allowed bands to be heard its hard to get through everything to find something good and of course if there is something good it can easily be got for free.

But technology has allowed bands to make proper release albums that are sonically better than what came out in the 80's for a fraction of the price.

The days of rich coke snortin, hard living rockstars are gone. The only ones that will survive are the ones that are willing to work hard and make good music and have something to offer and engage their supporters. the more you interact the more chance people will buy your CD rather than download it.

It's hard to interact with hundreds of people but if you keep regular updates on facebook and myspace etc. I find Facebook a much better way to interact than myspace and I'm working at getting as many of our supporters there and I'im on it regularly and am interacting with folks.

I

t's hard to keep every social network site going and facebook is the one I prefer so for the moment I'm sticking to that!!

We also have a forum www.oneforthelost.com and I'm on there a lot and if you join you can get some free downloads and the news as soon as its hot!


You've also been recording some solo songs. How are these coming along and any plans to release a full solo album?

I'm just about finished that. Im not sure what to do with it really. Since SPV decided to sign us about a year ago I have been at a loose end so I just kept writing and I was writing a lot of Blues/Folk and country stuff.

I would put stuff for Glyder into one folder and the rest into another folder. Then the folder just started getting bigger and bigger!!

The reason behind the recording was I wanted something to show for my year of being "idle". Can you imagine spending a year of your life doing nothing and having nothing to show for it?

I got heavily into The Band after watching "The Last Waltz" and started to explore lots of other styles of music. Ive always been open to most music as long as its real and comes from the heart so that excludes most Pop and crap you get in the general media.

A lot of roots, folk and blues players come from all over the world and play in a pub near me and I go regularly to see them.

On the solo album I've got Rob Strong (Father of commitments star Andrew) He plays bass on a few tracks and I've got Dave Roe who is a top session guy in Nashville playing bass on a few.

I've also got ex Mamas Boys guitarist Pat McManus playing fiddle on a track. I'm looking forward to getting it completed and starting to work on the next Glyder album.

Message for your fans...

Thanks to all our loyal supporters out there. We love to hear your comments and please come online and join our forum and facebook. Keep spreading the word and if you make enough noise we might get to play for you sometime soon!



---
Interview by Jason Ritchie, April 2010
All rights reserved.