Just witnessed your best live gig?.. send us a review!
STEVE HACKETT
Pacific Road, Birkenhead 20 November 2009
Photos by Noel Buckley and Lee Millward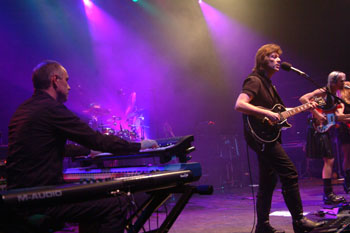 Photo: Noel Buckley
Announcing three tracks from 1980's 'Defector', Steve Hackett referred to music from a gentler time - and that indeed is what much of his music reflects. The all-strobes-blazing opener perhaps the one major exception. But tonight we could revel in key moments from an engaging solo career and a residency in early Genesis.

Hackett's classic eighties line-up (with brother John Hackett and Nick Magnus) was pretty unbeatable but his current band runs it pretty close. Sax and flautist Rob Townsend lent several songs a jazzier feel, whilst drummer Gavin O'Toole doubled up - impressively - on vocals for the Genesis songs. Amanda Lehmann was not just eye candy: although her second guitar appeared lost in the mix her backing vocals were exemplary.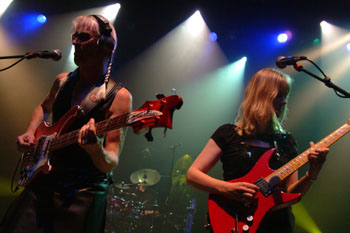 Photo: Noel Buckley
One time Kajagoogoo bass player Nick Beggs provided a striking visual focal point looking like a S&M Gladiator rampaging with a Chapman Stick whilst Roger King on keys looked like a businessman staring at a very poor set of tour accounts.

That opener - 'Mechanical Bride' - wouldn't have sounded out of place in a King Crimson set but the band quickly got into the new album, with the excellent 'Fire And Ice' highlighting the ensemble performance and in particular the backing vocals and lush keyboard textures. This was repeated on 'Emerald And Ash' and 'Ghost In The Glass'.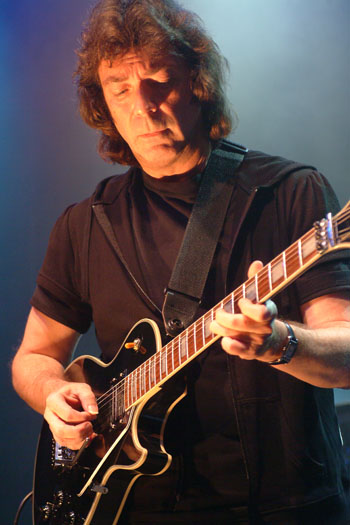 Photo: Noel Buckley
It wasn't until mid-set (very often a dip in many shows) that Hackett moved things up a notch with three instrumentals, contrasting the old and the new. 'Tubehead' off the new album demonstrated his versatility with sonic texture, slightly Jeff Beck-esque in its off-the-wall-ness. 'Spectral Mornings' and 'Firth Of Fifth' turned the clock back to those gentler times again, showcasing exquisite melody cutting through the ether with Gilmour-esque simplicity.

A further dip into Genesis back catalogue ('Wind And Wuthering', 'Lamb Lies Down On Broadway') pleased this older crowd before the home run of 'Sleepers' and the bluesy 'Still Waters' from the new album, and 'Los Endos'.

It's not been an easy year for Steve Hackett with a landmark court battle with his ex-wife for his royalties, but the crowd was right behind him tonight. The two and a half-hour show - part of an annual guitar festival - never dragged but could only brush the surface of a thirty-year solo career and a talent equally at home on acoustic guitar. Steve Hackett's music is a rare thing of quality and longevity in these more hectic times.

Review by David Randall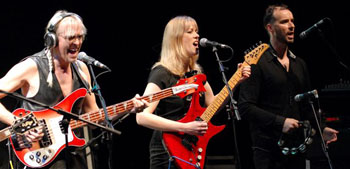 Photo: Lee Millward
Keith Thompson writes:
My son, daughter and I don't live a million miles away from Pacific Road so it was a bit like having your guitar hero play in your front room. Well not quite, as the venue was jam packed with the prog faithful. The Yes, Genesis, Ash, Dream Theater T-shirts came to see a master class in guitar.

Hackett's set was a fine balance between the old and the new. Yes we got Genesis, Acolyte and the true classics like 'Clocks' plus the timeless title track from 'Spectral Mornings'. But also the excellent new album, Out of the Tunnel's mouth were proudly paraded.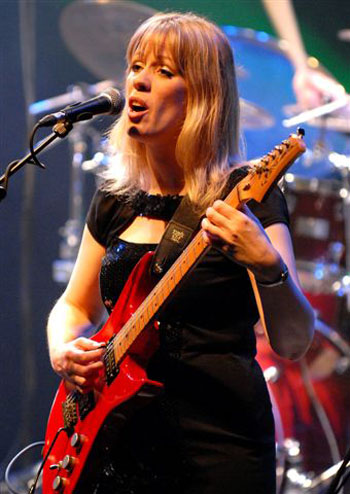 Photo: Lee Millward
From this, 'Fire on the Moon' was highlight but 'Sleepers', 'Ghost in the Glass' and 'Emerald and Ash' and the sexy 'Still Waters' stood up well against the older faves, ably peppered by the vocal (and visual) talents of rhythm guitarist, Amanda Lehmann who gave the choral parts added umph.

The band were tight. Although we join in the jollity surrounding Nick Beggs' attire, it mustn't detract from the fact that Beggs is an accomplished musician and great showman, whose mastery of the Rickenbacker interlaced well with Gary O'Toole's immaculate drumming provided the foundation for the minstrel to play.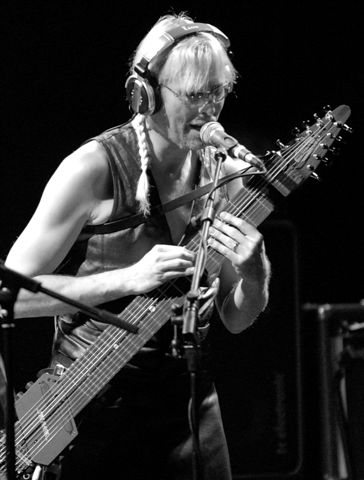 Photo: Lee Millward
O'Toole was a surprise package on the Genesis songs too. I thought Steve was singing without moving his lips on the mercurial, 'Firth of Fifth', but it was the drummer who delivered the Gabriel and Collins lines with verve and feeling as if they had been written yesterday.

A word though for the quiet one and a stalwart in the Hackett set up come rain or shine. Roger King. Keyboards are of course essential to any prog show but King's knack is to be able to complement the guitar and not compete with it.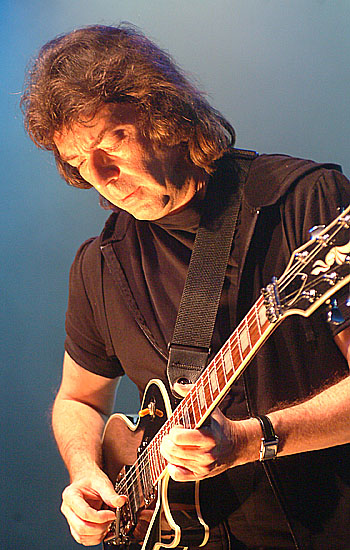 Photo: Noel Buckley
Hackett's guitar is a test of the emotions and I confess to a lump in the throat at times, as he has always evoked a sense of time and place with his compositions. 'Valley of the Kings' is a fine example.

No backdrops here. No pretensions. It's all about lost lands, the retelling of a myths or childhood visions. A cliché maybe, but the music really does speak for itself. And it still works live.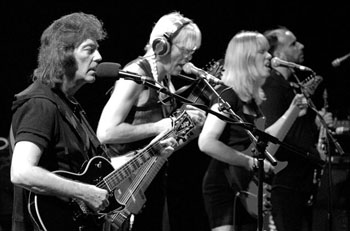 Photo: Lee Millward
It's strange but I was never a huge Genesis fan but could always identify with what Steve Hackett was trying to achieve musically during and after. If I want 'Invisible Touch', I can turn to a million other artists who do schmaltz better. There's only a handful though who can hold a candle to Hackett's ability to paint a landscape with his guitar.

One guy behind me shouted "The Real Genesis" and I couldn't have put it better.

For £18.50 we got value for money. I stood there transfixed to the spot two and a half hours and it was only when I reached down for my jacket at the end that it dawned on me that my legs wouldn't work. Maybe age, but I prefer to think of it as awe.
Review by Keith Thompson
Photos by Noel Buckley and Lee Millward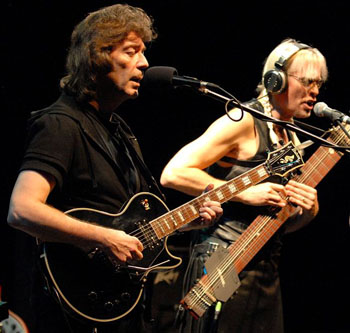 Photo: Lee Millward

---