SAXON Reissues EMI (2009)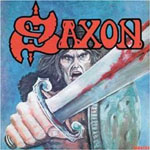 After MSG and UFO, we now get Saxon from the EMI vaults, and a real sense that someone at the financially struck label has decided that the best way forward is to do things themselves, and properly. Good job too.
All of Saxon's albums have appeared on CD before, some on different labels, including the strange 2-on-1 packages from French label Axe Killer. It clearly pays to invest a little time and money yourself and do things direct, both packaging and returns are improved. And with Saxon hitting a purple patch with recent new releases and tours, and a new found market in the UK, now is clearly the right time. I hope all are given this treatment.
All three come with bucket loads of extra tracks, many released before but not cohesively; it's good to have all the relevant stuff together on one album.
Saxon were formed by the amalgamation of two bands SOB and Coast in the mid 70s, to become Son Of A Bitch (SOB stood for something else, but that's another story), and changing their name to Saxon when they signed to French label Carrera, then better known as a disco music outlet. An odd choice, but the 1979 eponymous debut certainly made waves, being one of the first NWoBHM albums.
Saxon was a good album, but very rough and ready. The original line up of singer Peter 'Biff' Byford, guitarists Graham Oliver and Paul Quinn, bassist Steve Dawson and drummer Pete Gill certainly had a chemistry, but it takes a few tracks into the album to come through.
'Rainbow Theme' and 'Frozen Rainbow' lack direction, but 'Big Teaser' is a great metal track with a punk ethic / sound. 'Stallions Of The Highway' and 'Backs To The Wall' are great classics too, with a fresh rawness. There's a touch of the blues in the uptempo 'Still Fit To Boogie' too. Between 1978 demos, BBC sessions, 3 tracks live at Donnington 1980 and a b-side, you get a whopping 14 extra tracks. ***½
1980's Wheels Of Steel is a metal classic if ever there was one, with opener 'Motorcycle Man' setting the pace well. The title track and '747 (Strangers In The Night)' both classic hit singles and are still live staples. Although the album is much more polished than the debut, there's still that mix of blues and punk embedded in the rock'n'roll. Bolstered by two 1980 demos, another single b-side and a further 5 tracks from the 1980 Donnington performance make for an essential package. ****
Many fans swear blind over this album, but it was not their strongest; better was to come, including some moments on Strong Arm Of The Law, released later the same year.
Openers 'Heavy Metal Thunder' and 'To Hell And Back Again' are fast and furious, and both continue to be played live. The more melodic yet equally powerful title track shows the band's strengths both musically and lyrically. From the cheesy ('Sixth Form Girls') to the historical ('Dallas 1pm'), Byford's lyrics nailed it all. The album is bolstered by some 1982 BBC sessions and 4 Abbey Road 2008 mixes. ****
There's been a lot of fuss and positive noise made about Saxon of late, and rightly so. Now you can see how one of Britain's most endearing and enduring bands started out.
Review by Joe Geesin
Album review (Into The Labyrinth)
---
| | |
| --- | --- |
| | Print this page in printer-friendly format |
| | Tell a friend about this page |