EUROPE Out Of This World/Prisoners In Paradise
(2-CD) Iron Bird/Cherry Red Records (2009)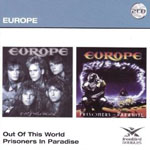 One of a series of double CD re-issues that also include albums from Britny Fox, Dangerous Toys and Riot. There are no bonus tracks but you do get newly composed sleeve notes and they are remastered.
1988's 'Out Of This World' was the band's follow-up to the massive success of 'The Final Countdown' album, although it marked a line-up change with guitarist John Norum jumping ship and Kee Marcello coming in as his replacement. Marcello fitted in nicely and in songwriting terms it was business as usual as Joey Tempest was the band's main songwriter. The single 'Superstitious' was a great opener and one of the band's best song for me. There are some good, strong rockers on here like 'Ready Or Not' and 'Let The Good Times Rock' but they still turned out some slower numbers like 'Open Your Heart', a song that nicely highlights Joey Tempest's singing prowess. There are a couple of fillers though especially 'Just The Beginning'.
There was quite a gap for the band until 1991's 'Prisoners In Paradise', another strong set from the band although again a couple of fillers stop it getting classic status, 'Got Your Mind In The Gutter' is just plain awful. But 'Halfway To Heaven', 'Seventh Sign' and the title track are amongst the bands best songs. Again for the quieter moments 'I'll Cry For You' hits the spot nicely. 'Girl From Lebanon' gives a hint of what the band will do some years later, with a darker lyric and harder sound.
Two essential albums for any self-respecting fan of melodic hard rock and at a bargain price you can't go wrong.
****½
Review by Jason Ritchie
John Norum and Joey Tempest are featured in two podcasts More information
---
Album review (Last Look At Eden)