Just witnessed your best live gig?.. send us a review!
Review and photos by Ian Pollard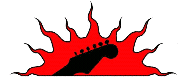 CAMBRIDGE ROCK FESTIVAL
Barton, Cambridgeshire 6-9 August 2009
Thursday, 6th August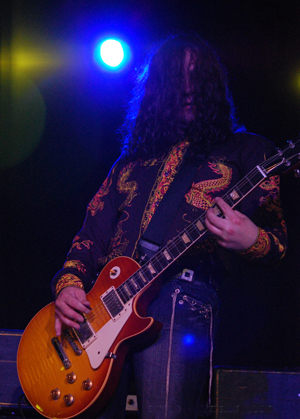 I managed to see four bands on Wet Thursday (as it will surely become known) starting with the main stage opener Led Zep Too with their spot-on re-enactment of a classic period Zeppelin show.
The clothes, hair styles, mannerisms and most importantly of course the music were a dead ringer for the real thing (as in Led Zeppelin not the disco band!!!) and they ran through classic after classic including 'Since I've Been Loving You', 'No Quarter', 'Whole Lotta Love' and a blistering 'Rock and Roll'.
A rocking start to the festival which continued on the alternative stage with the excellent and energetic local rock covers band Gypsy Ink, who looked great and played a strong set, with amongst others excellent versions of 'Sweet Child of Mine' and 'Livin On a Prayer.'
Back to the main stage with another local band, this time the blues rock of Split Whiskers who had the crowd dancing with a set full of smoking blues. I enjoyed the set so much I completely forgot to jot a few titles down but if memory serves me they included a storming 'Gimme Some Lovin'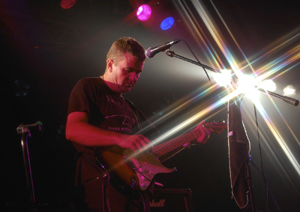 The Pure Floyd show were next up on the main stage playing a huge range of Floyd tracks, covering material from their first albums right up to the The Division Bell. A great lighting display only added to the effect of classics including 'Money', ' Wish You Were Here', 'Take it Back' and 'Comfortably Numb.'
Despite the weather, I think the festival musically got off to a great start.
Review and photos by Andrew Lock

Friday,7 August 2009 (Day 2)

With a new venue featuring 3 large marquee stages, this year's Cambridge Rock Festival promises to be bigger and better than ever. Dave Roberts and his team of volunteers have worked wonders again in putting this festival on, and provided a line-up of bands sure to spark the interest of many.

We arrived on the Friday - fortunately missing the monsoon that had come close to ruining the entire festival the day before. The flood was, by all accounts, somewhat akin to biblical in it's proportions, and only hard work and dedication from all involved ensured the show would go on.
The damage done to the electrics and PA would have ramifications throughout the weekend though, with scheduled timings not even being a close approximation for the most part.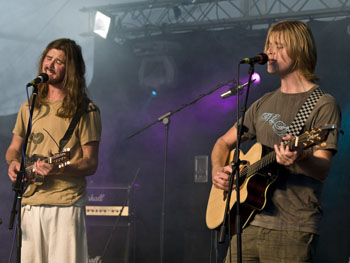 Our first musical entertainment is provided by brothers Alex and Rolf Tinlin. An unplugged set featuring acoustic guitar, mandolin and percussion, along with beautiful vocal harmonies. They cite a whole range of influences, from Bach to Zeppelin, by way of Dylan, Neil Young, and various soul artists. The end result is a very distinctive sound, with the bold harmonies to the forefront. Currently recording their second album, the brothers Tinlin will hopefully have a long successful career.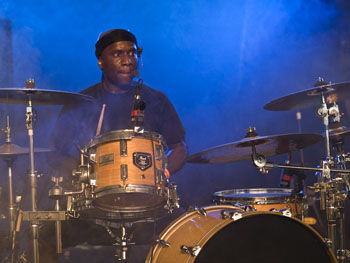 The mellow start to proceedings is brought to a crashing end with the arrival of Kyrb Grinder. The alternative vehicle of Threshold's brilliant drummer, Johanne James, deliver heavy progressive metal with precision. Johanne also handles vocal duties, and with his kit set up centre stage, he has a presence second to none.
The steely gaze and flashing smile are accompanied by a wicked sense of humour. Songs from the album "Defiance" are all quality offerings, until power problems bring an unfortunate premature end to the set.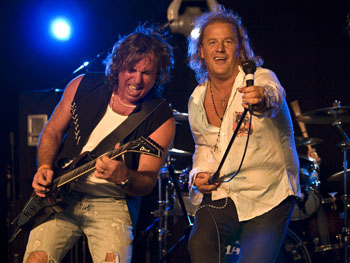 With the 2nd stage now running close to 2 hours behind schedule, we only get to see part of the Lost Weekend set, which is a real shame. The Halifax outfit, now back to a 6-piece line up with the addition of Gary "Tiny" Ives (all 6ft 7" of him) on keyboards, continue to excel.
Latest album "Fear and Innocence" has seen a move away from the heavily keyboard oriented AOR, and back to a classic twin-lead sound in the vein of UFO / Thin Lizzy. They recently added the former to the list of great bands they have toured with.
Live performances are always highly energetic (Dave Thompson couldn't put possibly more effort in) and superb. They are on top form again tonight, with Paul Uttley proving again what a great frontman he is.
London rockers Leaf Hound on the main stage were my first band of the day. Despite only making two LP's in 36 years Leaf Hound won over many new fans with their style of Cream meets Bad Company rock, fronted by original singer Peter French who has a fine set of pipes, and deserved a much higher billing.
Getting into the festival spirit I missed a few bands, Praying Mantis who are getting lots of critical acclaim for their latest CD 'Sanctuary' played a fine set and won themselves an encore.
John Lees' Barclay James Harvest ended Friday night coming late on stage at the stroke of midnight (a common occurence as the weekend progressed).
Along with original member Woolly Wolstenholme the Harvest performed a two hour set. My interest started to wane a little after standing all day, but they did dig out 'Summer Soldier' for the first time in 35 years and it started to liven up with the likes of familiar hits such as 'Child Of The Universe' 'Medicine Man'& 'Mockingbird'.
Mark Taylor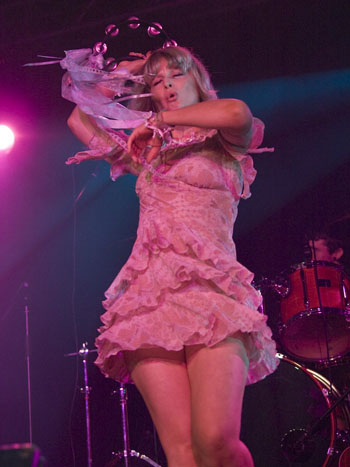 The Yorkshire connection continues on the main stage now, with Mostly Autumn. Now with a fairly settled line up again following the return of Liam Davison and Iain Jennings, and the apparent full-time recruitment of Anne Marie Helder, the band are back to their best in the live arena.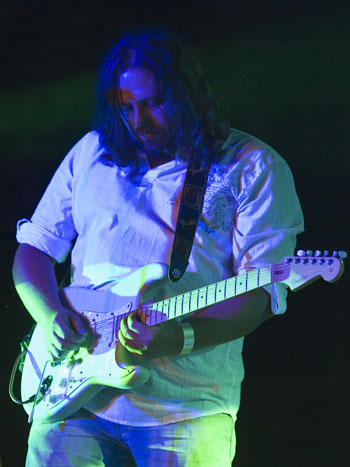 After last year's criminally short set at this same festival, they are given plenty of time this year to show what they are capable of. From the all out rock of "Answer The Question", the epic "Evergreen", the sublime "Above The Blue" (best vocal performance of the weekend), to the ever-present "Heroes Never Die"... I doubt anyone could have been disappointed. I wasn't, and the inclusion of "Carpe Diem" in the set just crowned it!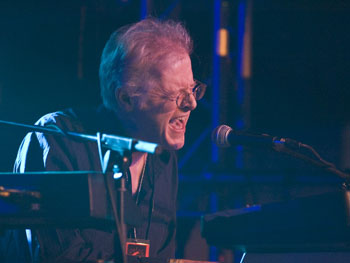 Final act for the day are one I am not particularly familiar with - John Lees' Barclay James Harvest. Featuring founding members John Lees and 'Woolly' Wolstenholme, they run through a full 2-hour set (despite the delayed start) of their classically influenced prog.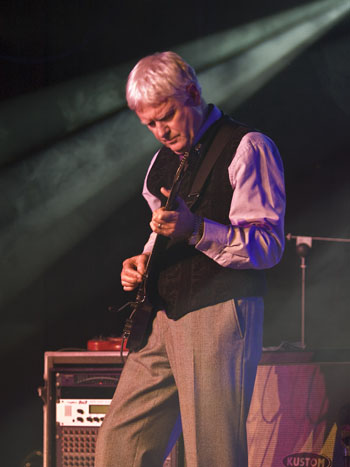 The sound gremlins were in full mischief mode early in the set, but the front-of-house sound improved quite quickly. Apparently, the mix sent to Radio Caroline for their live broadcast did not improve though. Likewise, the on stage monitors were ropey at best - but the band did a great job with barely a bum note to be heard. Woolly's banter between songs was particularly enlightening and entertaining.

A trudge through the mud back to the campsite follows (highly treacherous in the dark). Fortunately, no further rain fell to worsen the situation and much of the mud had dried up by the following morning.
Review and photos by Ian Pollard
Additional reporting: Mark Taylor, Andrew Lock
Cambridge Rock Festival Preview
---