WHITESNAKE Good To Be Bad SPV (2008)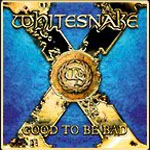 As the band clock up thirty years main 'Snake' David Coverdale returns with a new album (the first since the very average 'Restless Heart' album) and line-up consisting of guitarists Doug Aldrich (Hurricane/House Of Lords) and Reb Beach (Winger), bassist Uriah Duffy, drummer Chris Frazier and on keyboards Timothy Drury (The Eagles).
Doug Aldrich is David Coverdale's new writing foil and he also co-produced the album which overall sound wise goes back to the classic '1987' album and the Coverdale/Page album (listen to 'Best Years' which could easily have been lifted off that album). Lyrically Mr Coverdale is back to his innuendo best, as he lyrically warms himself on a lady's fire and finds her secret door!
For those hankering after pre-hair Whitesnake then the bluesy hard rock of 'A Fool In Love' will be right up your street. Doug Aldrich and Reb Beach are more than worthy of filling the guitar slot in the band which has been filled previously by many great players.
A sure fire future live favourite has to be the frantic hard rocker 'Got What You Need', complete with Coverdale's 'Aye up' intro – a nod to his north eastern roots. The new rhythm section gel well as Chris Frazier is similar to his predecessor Tommy Aldridge with a big drum and cymbal sound.
Of the three ballads 'Til The End Of Time' is the stand out, nice acoustic backing and a rich vocal from Coverdale. 'Summer Rain' is good as well although 'All I Want All I Need' sounds a bit too much like 'Is This Love?' in parts. All three see Timothy Drury's keys add depth to the sound and even strings pop up on 'Til The End Of Time'.
The real highlights for me are 'Til The End Of Time', 'Best Years', 'Got What You Need' and 'Lay Down Your Love' that starts with a layered vocal intro and then into a damn fine hard rock tune.
This is the best Whitesnake album in over twenty years as the man himself states in the press release and if it is the band's studio swansong then it is a fine way to finish.
****½
Review by Jason Ritchie

---
| | |
| --- | --- |
| | Print this page in printer-friendly format |
| | Tell a friend about this page |