VOODOO SIX First Hit For Free White Knuckle Records (2008)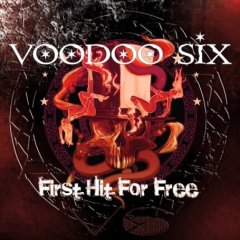 You can imagine it, can't you? Witnessing the arrogance and attitude of a nascent Guns 'N Roses first hand - when a lowly support act - guitarist Matt's former band felt compelled to let the tyres down on their tour bus.
Not put off, Voodoo Six's debut album briefly surfaced in the summer of 2006 but label difficulties complicated its promotion. A year later with a new management team, and with the album remixed by Mike Fraser (Van Halen, Aerosmith), the band set out again. They're now being touted as hot tips for 2008 and rightly so.
From the bone-crunching riff of opener 'Faith' this is a wonderful riff-fest from the off, with the twin-guitar of Matt Pearce and Chris Jones particularly impressive.
The album has all the swagger - but without the overblown pomp - of Axl and his men. Stylistically it spans three decades of guitar-based heavy rock, effortlessly. The band have enough light and shade between the incessant riffing to make this debut totally compulsive.
The band show they are capable of a standout mid-tempo ballad like 'Saints and Sinners' - a single if ever there was one. 'Mistaken' has a semi-classical motif and - cripes - is that a mellotron? Henry Rundell's vocals are yet another highlight and a perfect foil for the pile-driving guitar work that's never far away.
Relentless and uncompromising in its execution with a distinct lack of filler, this is - in short - a simply class and classic debut.
*****
Review by David Randall
Gig review and photo gallery
Interview (GRTR! Radio 24.04.08)

---
| | |
| --- | --- |
| | Print this page in printer-friendly format |
| | Tell a friend about this page |