MICK HUCKNALL Tribute To Bobby SRA004CDX (2008)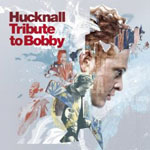 If ever there has been a project that highlighted the role of music in bringing people together this is it. For Mick Hucknall's excellent 'Tribute To Bobby' (Bobby Bland), takes in both a polished CD and a short DVD documenting the making of the album.
In recording this timely tribute to Bobby Bland, the music becomes the conduit that somehow draws together the likes of Hucknall, BB King (Bobby and BB recorded and toured together), Van Morrison (Bland was recently special guest on Van's shows), Simply Red's producer Andy Wright (who went back to the source to help Mick tackle the music) and even the late Roger Eagle (owner of the famed Eric's nightclub in Liverpool who gave Mick his first break).
But above all the 17 minute documentary also features Bobby himself with Mick paying homage to one of the great interpreters of song in the blues genre. Bobby of course didn't write these songs but his soulful phrasing made them all his own. And as Van the Man succinctly puts it Bobby is 'an individual stylist' and he focuses on 'the phrasing and the way he interprets a song', which when you think about it is the prefect summation of Mick Hucknall's role here.
And what makes the whole project so damn good is both Hucknall's intuitive understanding of Bobby's music, his ability to bring a contemporary twist to both the arrangements and production (working in tandem with Andy Wright) and above simply his wonderful singing. Quite often it's the case that such a project marks the end of a creative process in which the mentor falls back on some vaguely defined roots to cut an album of thinly compiled covers.
Happily 'Tribute To Bobby' is the exact opposite being a celebration of both Bobby's unique style and Mick Hucknell's magnificent voice. There may be 30 years between the two of them but the barriers don't exist when it comes to a mutual understanding of the same musical source. And what might have been perceived to be a risk as regards his post- Simply Red career turns out to be a triumph for Mick as this project reaffirms him as a great soul singer of real feel, rare maturity and above all an artist who is really enjoying this stylistic diversion.
There isn't a bad track on here with both 'Farther Up The Road' and Stormy Monday' being transformed from their oft cliché ridden readings to re-arranged triumphs while on 'Ain't That Lovin' You', Hucknall's phrasing soars over a cool horn arrangement. On the possible single 'Poverty' he startlingly shifts emphasis mid phrase from the smooth to the exclamatory while on 'Yolanda' he tips a hat to a 70's funky feel, a style neatly revisited on the superbly sung and produced 'I Wouldn't Treat a Dog'.
Mick saves his best for Bobby 1961 hit covered 'I Pity the Fool'. Recently covered as a duet by Robert Cray and Shemekia Copeland, this version takes things up to a notch with a mid tempo funky arrangements on which Mick steps it up mid number through the number with yet more im peccable phrasing.
But perhaps the biggest accolade to accorded 'Tribute To Bobby' is that Mick Hucknall manages to imbue several all too familiar songs with new life and import, suggesting he is just a great soul singer but worthy successor of Bobby Bland's role as a great interpreter of song.
Superbly packaged with only a spelling mistake on Bobby's 'Lifetime Achievement Award' caption on the DVD blotting the copybook, this album fully deserves its five star rating.
*****
Review by Pete Feenstra

---
| | |
| --- | --- |
| | Print this page in printer-friendly format |
| | Tell a friend about this page |