MARILLION Early Stages: The Official Bootleg Box Set 1982-1987 (6CD) EMI (2008)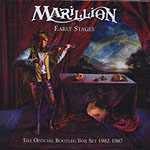 Official bootlegs with a difference, as all 5 concerts are well recorded and features all new previously unissued material.
In the early 80s, post punk, there was a resurgence in prog rock, with a new polished sound. The movement included the likes of Pallas and IQ, but top of the pile were Marillion (taking the name from 'Silmarillion', a JRR Tolkien novel and typically the kind of influence on any self respecting prog band).
By 1982, Marillion already had a sizeable following in their native Scotland, and disc one covers a gig recorded by Radio Clyde at The Mayfair, Glasgow in September of that year. Charismatic frontman Fish holds sway well. From the outset of their career Marillion weren't shy of lengthy tracks on stage as well as on vinyl, and of mixing melody with complex time structures. It's easy to see where the Genesis comparisons came from, but it's all done with so much style.
Opener "Garden Party" goes down a storm, and the seven track set is augmented by "The Web", "She Chameleon" and the classic "Market Square Heroes". Solid rhythms, melodic keyboards, and unlike the more recent Marillion work, some fantastic guitar solos.
The second gig, 30 December 1982, is spread over 2 discs and the last time the band would play London's Marquee, having already outgrown it.
Recorded for EMI, it was only mixed last year, and opens with the classic "Garden Party". Great sound and again the band are on form. It's easy to see why the band were such a live draw. The four tracks on disc one also feature "Three Boats Down From The Candy", "Chelsea" and the 20 minute "Grendel". The latter, think "Supper's Ready", but it's still great.
The set continues on disc 2 and also features "The Web", "Script For A Jester's Tear" and "Market Square Heroes". Rousing indeed.
Onto disc four and we have the performance from Reading, 27 August 1983, as recording by BBC Radio 1. Outperforming Black Sabbath (who were having a bit of a quandary that year with Ian Gillan up front), and still relying on first album material, it is a very notable set. Kicking off with "Grendal" (unusual that a 12" b-side would become such a live favourite), one of the last times the band would ever perform the track, the set also featured "Script For A Jester's Tear", "Assassing", "Forgotten Sons", He Knows You Know", "Charting The Single" and closing with "Market Square Heroes". Watch out for the segment of Bowie's "Jean Genie".
Skip forward a year and a bit to December 1984 and a gig at Hammersmith Odeon, recorded for broadcast by BBC Radio 1. The sound still solid, Fish still as talkative as ever, and "Garden Party" still a firm favourite in the set.
Most notably here was what was effectively side 1 of the following year's classic Misplaced Childhood, but at this point still a work in progress. Great new material, with different lyrics and arrangements. Check out the hit single "Kayleigh" and you'll see what I mean.
Finally, a full disc, from Wembley November 1987. This charity concert (HRH Prince Edward in attendance) again recorded by Radio 1, shows how much the band had come on. With the success of the Misplaced Childhood set, there is much less reliance on the early material, and the tracks from the aforementioned album are much closer to the finished arrangements. That said, both "Kayleigh" and "Lavender" are classic hit singles and "Heart Of Lothian" a good live number. Other more recent tracks include "Sugar Mice" and "Warm Wet Circles", and the earlier "Fugazi" still a classic.
A good representation of the band's history.
Sadly, due to time constraints and legal issues, the encore is not here. The covers of "The Boys Are Back In Town", "All The Young Dudes", "Gimme Some Lovin'" and "With A Little Help From My Friends" featuring several members of Iron Maiden would be fantastic, and I hope they see the light of day sometime.
A genuine gem, 80s prog at its best, with sleevenotes from vocalist Fish to boot.
*****
Review by Joe Geesin

---
| | |
| --- | --- |
| | Print this page in printer-friendly format |
| | Tell a friend about this page |