HYDROGYN Deadly Passions DR2 (2008)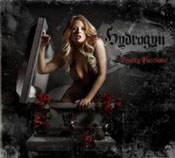 With an album sleeve reminiscent of a voluptuous Ingrid Pitt emerging from a 1970's Hammer Horror crypt, and the opening grooves a nod to reverse recordings sounding like Beelzebub's demons, you just know that you're in for some 'formula' rock.
Which is not necessarily any bad thing. Alice Cooper's made not only a name, but a legend out of it - giving the punters just what they want - great guitar lines, punch your fist choruses, and a spectacle to match.
And so Hydrogyn - hubbie/wife combo Jeff and Julie Westlake and supporting cast - approach that difficult second album. Their first, Bombshell, with veteran producer Michael Wagener behind the desk was a gem of the genre, although their live performances failed to live up to the image or studio sound.
But someone in the band is a one smart cookie. First of all, lets examine the album sleeve - once again legendary LA photographer Scarpati has been engaged to provide the artwork for an iconic cover featuring the pneumatic Julie Westlake in a pose that will provide for hot-blooded males of all ages.
Secondly, Jeff has assumed production duties. And clearly he wasn't asleep on the job when Michael Wagener was playing with his knobs on the band's debut, because the sound here is just as vibrant and punchy. A terrific balance between heavy and commercial rock.
But basically, the band have taken up the Pat Benatar blueprint from around the Precious Time era, beefed up the sound a little, and run with the baton hell for leather towards the finishing line. So, those who loved the band's debut will not be disappointed. Big guitars, big choruses and Pat Benatar style vocals make Deadly Passions terrific entertainment.
There are, however, a couple of near misses. A cover of Alanis Morissette's You Oughta Know is a poor choice, being flaccid and lacking the vitriol of the original, Over U is somewhat ponderous, and the attempt at the big show closing rock ballad - Shadow - so nearly makes it, but just lacks that little bit of Dianne Warren magic that could have made is as ginormous as the likes of Aerosmith's I Don't Want To Miss A Thing.
But in the round, Deadly Passions easily sidesteps the 'difficult 2nd album' elephant pit, is a great listen and a worthy addition to the band's catalogue.
There's no question about it - as a business model, Hydrogyn have just about nailed it - they've got the image and they've got the riffs, but what they need now is a theatrical stage show to match. If they can pull that off, then for their next UK gig you'll be queuing at an arena and not some sweaty back street club in Wigan.
****
Review by Pete Whalley

---
| | |
| --- | --- |
| | Print this page in printer-friendly format |
| | Tell a friend about this page |