GIRLSCHOOL Legacy SPV/Wacken (2008)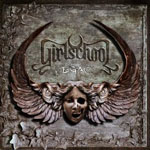 I've been looking forward to this for a long time, and have already witnessed four of the tracks played live. A long time fan, I tried to approach this with an open mind and was instantly blown away.
Britain's longest running all girl rock band (30 years) are back with the first full album's worth of material in a long time, and it's been well worth the wait.
Girlschool have always excelled at the catchy metal single, and every track does that here, but anyone expecting 'Hit And Run' or 'Don't Call It Love' will be in for a shock here.
OK the album has been well publicised for having loads of guests, but even the tracks featuring the four girls have more balls than a team of footballers. The original Girlschool mix of 'I Spy' is very reminiscent of Sabbath circa Dehumanizer. Fitting then that one of the three bonus cuts is a different mix of the same track, featuring Ronnie Dio and Tony Iommi.
More upbeat, I would say more typically Girlschool but heavier, is 'Spend Spend Spend'. Watch out for the guitar solo by Twisted Sister's J.J.French.
Right from the outset and opener 'Everything's The Same', you are struck by two things. Firstly, just how solid, smack in the face, modern and heavy and completely different this is, and secondly just how good the girls sound. It's not unrecognisable, it's just a several stage development.
OK, so they've called in a few favours, but who doesn't these days. So together with the aforementioned French, Dio and Iommi, the album features Neil Murray, Phil Campbell, Eddie Ojeda, Fast Eddie Clarke (on a rare recent cover, a great take on Motorhead's 'Metropolis') and Lemmy.
'Just Another Day' is good time rock'n'roll with a sleazy angle, and the title track is a stand out, with some great vocal harmonies.
I have to admit I was taken by surprise, even with the tracks I'd heard live, but that said It's such a good album; 12 tracks you can't fault. And then there's the three bonus cuts, the Dio/Iommi version of 'I Spy' and recent rerecordings of the classics 'London' and 'Emergency', previously made available for download from the band's website a year or two back.
It's a very good feeling when one of your favourite bands produce a fantastic new album that you know you'd really want to buy on account of the music alone, and that's before you get to the mouth watering guest list.
*****
Review by Joe Geesin


---
| | |
| --- | --- |
| | Print this page in printer-friendly format |
| | Tell a friend about this page |