ELEANOR McEVOY Love Must Be Tough
MOSCO MOSCD404 (2008)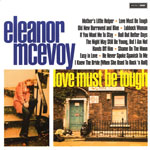 Eleanor's always been a difficult artist to pigeon hole, as she'll tell you if you ask her what genre her CD's are likely to be filed under in the larger remaining High Street music retailers.
Normally filed under 'folk' and normally found treading the folk circuit, Eleanor has never felt bound by her roots and has successfully included many others in her repertoire - blues, soul, rock. And always served with a large measure of class.
But her 7th album takes an entirely new twist - in a direction first hinted at on Early Hours. With a supporting cast of Ireland's finest musicians in the form of the South King Street Band, Eleanor takes a retro ride back to the late fifties / early sixties birth of rock and roll replete with ragtime jazz trumpets, trombones and saxes.
Originally conceived as a covers album based on the theme of hitting 40 and mid life crisis, Love Must Tough has emerged as hybrid - mainly covers/interpretations, but mixed with an original and a clutch of co-written numbers. Even the cover artwork has a typically 60's layout.
The album opens with a quirky almost boss nova version of the 1965 Jagger/Richards penned' Mother's Little Helper, the line 'what a drag it is getting old' setting the scene for the whole set. It's a wonderful interpretation, and only when you play it back to back with the original do you realise just how good. It comfortably eclipses the Stones' version.
It's followed by the title track - co written with Johnny Rivers, a track as good as anything Eleanor's delivered. It's got a chorus to die for and is a set highlight. As is Old New Borrowed And Blue, one of two tracks co-written with The Beautiful South's Dave Rotheray. The faux church organ wedding march and trombone work are the icing on the cake.
Every track has something to offer - If You Want Me To Stay is a stunning percussion / vocal workout that is destined to take the place of Isn't It A Little Late in her live set, and the one self penned track - Roll Out Better Days - is as infectious as any previous output.
The Night May Still Be Young, But I Am not - another track written with Dave Rotheray, has a Pogues feel to it, while He Never Spoke Spanish To Me has a Mexican mood and is the sort of number Kirsty MacColl would have loved to cover.
Hands Off Him is a full brass arrangement of Priscilla Bowman's up tempo 1955 big band hit, Lubbock Woman a bluegrass story of a woman hitting 40, and Shame On The Moon a wistful cover of the Terry Allen song.
There's a surprise revisiting of Easy In Love from Yola, which strangely adds very little to the original, and the set concludes with a lively work out of Nick Lowe's I Knew the Bride When She Used To Rock 'n Roll.
In conclusion then, Love Must be Tough is a bold break with the 'Me, Myself and I' (self played and self penned) approach of Out There, but while exploring old ground with a fresh slant it nevertheless remains an album that has all the hallmarks we've come to expect from Ms McEvoy - great songs, fantastic production and, of course, Eleanor's wonderful vocals.
****
Review by Pete Whalley

---
| | |
| --- | --- |
| | Print this page in printer-friendly format |
| | Tell a friend about this page |