POWER QUEST Magic Never Dies Majestic Rock (2005)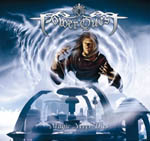 One of my personal favourite new bands of the past few years return with album number three, which also marks a new label for the band after leaving Now & Then.
Power Quest, if you have never heard anything by them (and if not, why not?) play classic power metal but with a healthy dose of progressive music and even AOR at times.
Opener 'Ascension' will have pomp rock fans in ecstasy with its symphonic keyboards and military snare backbeat. 'Find My Heaven' fairly rips out of the speakers and is a classic power metal anthem that this band do so well.
What I like about this band though is that its not all double speed drumming and super fast guitar solos but they can throw in the odd curve ball into the mix.
Take 'Hold On To Love' that builds nicely up to the chorus and features neat keyboard and guitar interplay. The one song on here that could open up a whole new audience is 'Children Of The Dream'. It will easily appeal to melodic rock fans with a catchy riff and chorus – definitely a tune for airplay. Only a couple of songs miss the mark for me but that said even an average Power Quest song blasts lesser bands out of the water!
Power Quest deliver the goods again and then some. Key for the band will be breaking out of the power metal niche and gaining a wider metal/rock audience and with tunes like 'Children Of The Dream' they may just do that with this release.
****½
Review by Jason Ritchie

***** Out of this world | **** Pretty damn fine |
*** OK, approach with caution unless you are a fan |
** Instant bargain bin fodder | * Ugly. Just ugly