MARTIN BARRE Stage Left(R & M RAMCD002) (2003)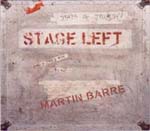 Whenever I've been to a Jethro Tull concert in recent years I have always been impressed by the showcases for their guitarist Martin 'Lancelot' Barre. In fact, for me, these are frequently the highlights of a consistently high standard set. Martin is Ian Anderson's long-standing first lieutenant, a staple in the Tull line-up since the heady days of doh-dohdohdoh-doh----doh (Aqualung, for the unfamiliar). When Barre auditioned for Tull, as a replacement for the great Mick Abrahams, he apparently had no amplifier and Anderson was left listening close up to the guitar belly (or was it Martin's?) to find out what was going on. Needless to say his judgment was sound, for Barre has since become a crucial part of Tull's musical style.
In truth, Martin Barre's previous solo outings ('Trick Of Memory' and 'The Meeting') have lacked the Tull 'wow' factor and the songs, with few exceptions, failed to capitalise on his instrumental interludes with the band. To a large extent, 'Stage Left' redresses the balance. There are enough Tull-type tracks to satisfy fans (and the presence of Jonathan Noyce and Andy Giddings is comforting) and guitarists will welcome the nicely annotated sleeve which shows which guitar is featured on each track.
The opener track sets the stage for Stage Left, a rasping rock 'n' roll number with Barre's trademark frills and harmonics. At times veering towards jazzy rock-Satriani territory, his approach is simpler, anchored in good traditional English riffery. Barre is a heavy riffer par excellence. He doesn't appear in Rolling Stone's 100 Best Guitarists (September 2003) but he should do because his sense of dynamics is always engaging and he has defined in no small way how progressive rock guitar should sound. In full flight Barre is magnificent, and excels when he builds up a slow theme, jacks up the tempo, and then goes hell-for-leather to the finishing post with a deft display of frenetic and fluid fingerwork carrying the listener along with him.
The acoustic tracks are a pleasant contrast, and will appeal to Tull fans because they encapsulate that band's very pastoral Englishness; they also bring to mind the intricacies of Gordon Giltrap, another great player. The one slightly oddball track is the vocal 'Don't Say A Word' which doesn't really fit with an otherwise instrumental album.
It is on the electric stuff that Barre really cuts mustard: 'Murphy's Paw' and 'Stage Fright' showcase his superb sense of drama, tension, and release. There must be a case for putting out a whole CD of the material Martin Barre has performed in concert with Jethro Tull but in the meantime this is definitely not Exit Stage Left but Enter Centre Stage and take a bow, Martin Barre.
Website
Related>> Ian Anderson CD
****
Review by David Randall


£12.99
© 2003 All rights reserved.
Murphy's Paw
© 2003 R And M Records. All rights reserved.