IAN ANDERSON Plays The Orchestral Jethro Tull
ZYX 20723-2 (2005)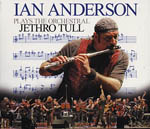 The last time Jethro Tull recorded with a symphony orchestra was in 1984 for the excellent album 'A Classic Case'.
Essentially that was the band with a concert orchestra, so we had the great Martin Barre riffing against a full 'classical' ensemble.
This time, Ian Anderson is sans bandmates. With not even Tull arranger Andy Giddings as a musical figleaf, he teamed up with the Frankfurt Neue Philharmonic Orchestra in 2004, augmented by several musicians who featured on Anderson's solo 'Rupi's Dance' in 2003.
This 2-set CD is an altogether different beast and, all the better for it too. It's not all instrumental, as Anderson sings where necessary and we get his inimitable between-song banter.
Anderson's always erudite sleeve notes seem to refer to that earlier classical foray where 'rock group with orchestra' can be at least 'a little suspect'. Tull have always made forays into acoustic territory and 1992's 'A Little Night Music' was perhaps the nearest to a purely instrumental album.
The use of accordion harmonisations on this new set may not appeal to all tastes, but thankfully is not too intrusive and at its best the album really swings and captures the very essence of the original tunes, and reiterating Tull's folksy prog. This is especially evident on 'Living In The Past' which closes the first disc.
There are few surprises in the choice of material, and that might be a minor criticism although the arrangements do sound fresh and uplifting. As an example, 'Life Is A Long Song' is beautifully rendered and very faithful to David Palmer's original.
'Bouree', which Anderson admits 'he has buggered around with for 30 years', gets a full symphonic treatment and I'm sure JS Bach would have been proud.
Harking back to that classical sortie twenty years earlier, one can't help pining at times for a bit of Barre riffery but I suppose that would miss the point. Essential for Tull fans who want a contemporay update of the 1984 release, but a great purchase too for those who want to luxuriate in the classical folk sensibilities of an enduring English rock band.
Review by David Randall
Living In The Past
© 2005 ZYX Records/Ian Anderson. All rights reserved.
Related>> DVD review
Related>> Album review