Definitive video history of seminal blues rock band...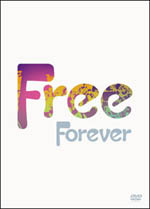 Free 'Forever' is an exhaustive 4 and a half hour double DVD retrospective of a band that thirty three years after it's demise still continue to fascinate, receive airplay and influence a raft of contemporary bands. The combination of archive live footage and both historical and new interviews with the remaining three members means that that Free 'Forever' will hold an across the board appeal to most rock fans.
The film and video research is excellent starting with 1970 clips from Germany's 'Beat Club', followed by Granada's 'Doin' Their Thing', which when you think about it begs the question what were the BBC doing at this point?
Free fans will doubtless enjoy the inclusion of Paul Kossoff's film which is a mix of father David Kossoff on a curious dream like walk through shifting scenery followed by some silent footage of the band from an Ealing college gig. It's undoubtedly archive source material but quite how often people would return to view this section this is debatable.
Disc two offers superb footage of the band's ground breaking Isle of Wight festival appearance, and as with disc one is accompanying band reminiscences which offer a genuine insight into one of the pivotal moments of Free's career.
However, having recently seen the film of Free 'Forever' it becomes apparent that the strength of the DVD format, notably the facility to drop in on different sections of the 2 DVD set is also its weakness, as at times the project cries out for a strand of continuity. Perhaps some linkage could have been provided by talking heads, especially as a couple of the snippets of historical film footage are repeated for no discernible reason.
But that is a minor quibble as all three remaining band members articulate their memories eloquently at different points on both discs and in the case of Rodgers and Kirke sometimes quite humorously. 'All Right Now' for example, the band's biggest hit and yet its Achilles heel, is remembered by both Rodgers and Fraser as being responsible for calling into question Free's integrity. Having reached the top of the charts Free were asked to appear on Top of The Pops, and this led to some discussion in the ranks.
The TOTP appearance is included as part of 'The Free List' with Andy looking totally bored at the beginning of the song. The 'Original Videos' section is somewhat more impressive with the band having apparently swapped their Orange amps for Marshall stacks. Free are captured characteristically working their muscular way through their best material. Most of the footage is of band performances though there is a curious narrative based 'Wishing Well' video, complete with a truck driving leather clad anti-heroine, which actually manages to detract from the strength of the song.
The Isle of Wight festival footage is superbly shot and the audience's big reception for 'All Right Now' echoes Simon Kirke interview assertion about the song's popularity when played live.
Ultimately fans will lap up the music, the alternative takes and the previously unseen footage, and it's good to know that on balance Messieurs Rodgers, Kirke and Fraser remember the band with more than passing affection.
****
Review by Pete Feenstra