For years Focus fans had been starved of official video footage of their heroes, now a second DVD appears within the space of a few months...spoilt or what?!
Focus fans are being spoilt. Hot on the heels of the brilliant archive set 'Masters From the Vaults', this is a live concert recorded in Trenton, New Jersey when the new formation of the band appeared in a classic rock festival in October 2002.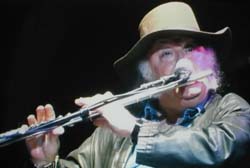 Fans will, I think, have mixed feelings about this band reincarnation. Yes, it is marvellous to hear some of those classic tunes played again, and so accurately, but - and it's a big but - guitarist Jan Akkerman is not on stage. Newcomer Jan Dumée takes on this role and plays superbly, even down to the Akkermanesque flourishes and volume swells, but Akkerman is sadly not in the building. It would be churlish to say that Dumée had holed up in his study for several months to learn the guitar parts from old vinyl but there is a sense that he's doing what any bedroom wannabe guitarist would have done, only slightly better.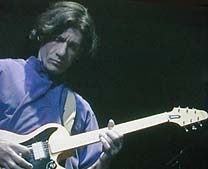 There may be disappointment, too, that there is no new material here on offer (except for 'Focus VII') although the band would have had their 'Focus 8' material primed and ready at this time and a mixture of old and new may have worked better. The band do stretch out on some of the tunes, and Focus I goes into an extended improvisation whilst the full version of 'Eruption' features a very good extended showcase for Dumée and some superb Hammonding from Thijs Van Leer.
The bonus material may be of more interest: a short interview feature with the band and some further archive footage from the 'Whistle Test' in May 1972. This book-end only goes to re-emphasise the merits of the original band and may leave listeners wanting to discover the old albums rather than the new.
***
Review by David Randall
© 2003 All rights reserved.

The Bridge (Jan Akkerman)
© 2003 Focus/Classic Rock Productions. All rights reserved.
Related>> Focus 8 CD
Related>> Masters From The Vaults DVD
Related>> Masters From The Vaults CD