BOB CATLEY 'When Empires Burn'
(Now & Then/Frontiers FRCD150) (2003)

As Magnum vocalist Bob Catley has been saying in interviews this is his 'heavy metal' album! Long time writing partner on his solo work, Gary Hughes (Ten), has been replaced by Paul Hodson (previously in Hard Rain and now in Ten!), who also plays keyboards and backing vocals. Pulse's Vince O'Regan handles guitars, Magnum's Al Barrow plays bass and session drummer Jamie Little rounds off the band.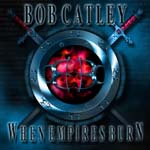 After the pomp intro 'The Torment' the album is off and running with the epic metal of 'Children Of the Circle'. Big, swirling keys and heavy guitar topped of by Catley's vocals- very nice indeed. 'Gonna Live Forever' has a hail of heavy drumming and again O'Regan lays down some very clean cut, heavy riffing. It is the deep arrangements of the songs and the heavy guitar that take this into metal territory. Thankfully Catley stays true to his vocal style and doesn't try to imitate metal singers like Rob Halford or Bruce Dickinson!
'I'll Be Your Fool' is very Magnum in style and feel, featuring banks of keyboards and the guitar takes a less metallic path. Classic example of melodic rock done well and with hooks big enough to fish with! There are still epic ballads, with 'Every Beat Of My Heart' highlighting the ease in which Catley tackles such songs. 'Meaning Of Love' pomps it nicely, featuring harmony vocals underpinned by driving guitar. No real fillers on here, although strangely the title track is one of my least favourite! 'This Is The Day' has to be one of the most metal tunes Bob Catley has sung. The guitar soloing is classic Maiden in style with a heavy rhythm throughout. 'My America' starts slowly, with Irish pipes and builds into the epic style most associated with Magnum. Strong finish to a very strong album.
Superb album from one of rock's legendary vocal talents. Paul Hodson's production and arrangements suit Catley's vocals to a tee and make it a true solo work as it sounds different from his full-time band, Magnum. Many will already have this album but if you haven't grabbed a copy yet, what are you waiting for?
Related> Bob Catley interview
Related> Al Barrow interview
Related> Harry James interview
Website: Magnum Online


£13.99
****
Review by Jason Ritchie