Just witnessed your best live gig?..send us a review!
Latest Asia gig review here!

ASIA
Shepherds Bush Empire, London, 3 December 2006
Now last time the original Asia line-up played the UK was back in 1983 and sadly I was too young to attend - honest!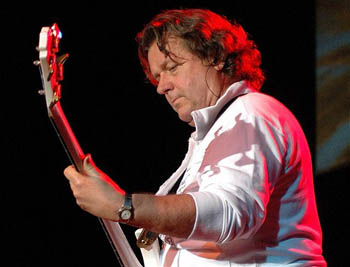 Photo: Lee Millward
Now I am a fan of the John Payne fronted Asia (and have seen them live a fair few times) and the Wetton/Downes collaboration but nothing can quite match seeing all four original members back again, namely John Wetton (King Crimson/Uriah Heep), Geoff Downes (Buggles/Yes), Steve Howe (Yes) and Carl Palmer (ELP). Judging by the sold out Empire that view is shared by many (the John Payne fronted Asia never managed to filled this venue) and from all over the world with fans travelling from Japan, Sweden, Denmark and beyond.
The set list was based around the debut album, so you got such classics as 'One Step Closer', 'Wildest Dreams', 'Only Time Will Tell' and 'Here Comes The Feeling', the latter a real show stopper moment.
Mixed in with these classics were unplugged versions of 'Don't Cry' and 'The Smile Has Left Your Eyes' from the 'Alpha' album, which work well although you do hanker for the guitar riff on 'Don't' Cry'.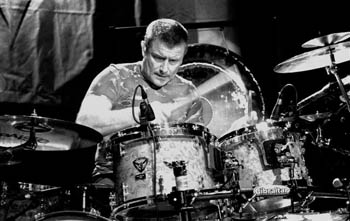 Photo: Lee Millward
The four members each delve into their other bands so you get 'In The Court Of The Crimson King' by King Crimson, 'Yes's 'Roundabout' (which musically is fine but Wetton does not have the high range of Jon Anderson) and Steve Howe gets a solo acoustic spot, a stunning 'Fanfare for the Common Man' and the Buggles hit 'Video Killed The Radio Star', complete with Geoff Downes in gold lame suit!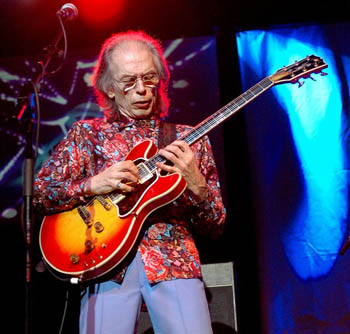 Photo: Lee Millward
The sheer musical talent on display is amazing and it is a personal treat to see one of my favourite drummers in action – boy does he know his way around a drum kit. Special mention to John Wetton, who has been beset by personal problems awhile back but tonight he is on fine vocal form and clearly loving every minute of it.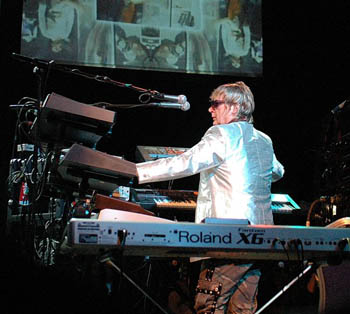 Photo: Lee Millward
Encore time and you get 'Ride Easy' (originally only ever released as a b-side although you can get it on one of the many Asia compilations out on CD) and of course 'Heat Of The Moment', which gets the biggest audience reaction of the night. Nice touch in that 30 minutes after the show you can buy the CD of the concert.
The band are celebrating their 25th anniversary early as next year is the official date band the good news is that they will be back in the UK in 2007. Well worth going to see and it will be interesting to see if this pans out into merely a nostalgia trip or the band take it further and record new music together.
Review by Jason Ritchie
---
| | |
| --- | --- |
| | Print this page in printer-friendly format |
| | Tell a friend about this page |