TONY IOMMI: Godfather of Heavy Metal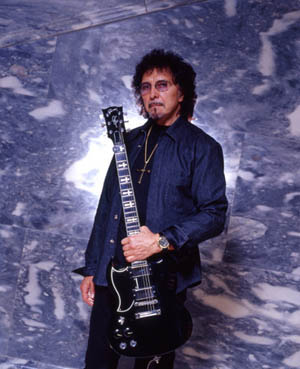 Heavy metal would not exist without guitarist Tony Iommi. It's that simple.
For more than 35 years, his work has defined the music. As a member of ground-breaking pioneers Black Sabbath and as a solo artist, his mighty, steel-melting guitar riffs and skeleton-crushing solos have paved the way for countless disciples and imitators, but none equal the master. His third solo album, Fused, coming in 2005 on Sanctuary Records, is yet another monumental achievement.
Iommi was a teenager when a bizarre accident changed his life and, ultimately, the entire direction of popular music. The left-handed guitarist got the tips of his right middle and ring fingers cut off while working in, ironically, a metal shop. Instead of giving up the guitar, he was determined to overcome this setback. Iommi fashioned special caps to put on the two injured fingers. By using light-gauge strings and, quite often, various guitar tunings with slackened strings below standard concert pitch, this physically made it easier for Iommi to play. But these practices also enabled Iommi to create an incredibly distinctive signature sound and style.
By 1968, Iommi joined forces with three of his Birmingham, England, neighbors and school chums to form a jazz-blues band. Iommi, vocalist Ozzy Osbourne, bass guitarist Geezer Butler and drummer Bill Ward first dubbed themselves Polka Salad, which included two other members, and eventually the stripped-down quartet Earth.
For a brief period of just a few days in late 1968, Iommi was actually a member of the progressive rock band Jethro Tull. In fact, he performed with the band when it was asked to be a part of the Rolling Stones' legendary all-star concert "Rock and Roll Circus." Filmed in London on December 10-11, 1968, John Lennon, The Who, Eric Clapton and other top musicians of the time participated. This concert was never officially released until the CD and home video came out in 1996. Iommi can be seen during Jethro Tull's lip-synched performance of "Song for Jeffrey."
After realizing Jethro Tull was not going to be a suitable outlet for his music, Iommi hooked up again with Osbourne, Butler and Ward in Earth in early 1969. Then, in a gutsy, innovative move, they cast off the notion of being a jazz-blues band and decided to pursue writing and recording original material with an often startling, bleak examination of the darkness in the world. Taking the name Black Sabbath from a Boris Karloff horror film, the quartet created music that was the very antithesis of the leading sounds of the peace-and-love hippie generation. Black Sabbath songs would take a stark look at topics including death, war, religion, mental illness, and drugs.
Black Sabbath first released a single, "Evil Woman," in early 1970, which was a cover of Crow's "Evil Woman (Don't Play Your Games With Me)." Black Sabbath was released a short time later in 1970 and it turned the rock world upside down. The album featured the harrowing title track, "The Wizard" and "N.I.B." Black Sabbath made a splash on both sides of the pond.
The band's second album, Paranoid, was released in 1971 and the band became a sensation. This album is truly where Black Sabbath's vision fully crystallized and the title track, "Iron Man" and "War Pigs" became immediate classics. 'Paranoid' became a huge hit worldwide and propelled Black Sabbath to superstar status. Paranoid is among the few truly revolutionary, influential albums of the era that redefined rock music.
For the next seven years Black Sabbath ruled the world as the kings of heavy metal, selling millions of albums and packing arenas and stadiums. The band evolved musically through Master of Reality (1971), Black Sabbath Vol. 4 (1972), Sabbath Bloody Sabbath (1974), Sabotage (1975), Technical Ecstasy (1976) and Never Say Die!(1978). Classics from these albums include "Sweet Leaf," "Children of the Grave," "Changes," "Snowblind," "Sabbath Bloody Sabbath," "Symptom of the Universe," "Rock 'N' Roll Doctor," "Dirty Women" and "Never Say Die."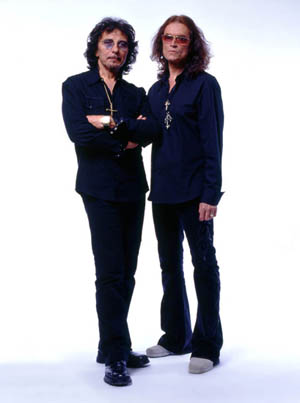 After Osbourne departed, Black Sabbath soldiered on with former Rainbow vocalist Ronnie James Dio and released Heaven and Hell in 1980. The album was a hit and it expanded Black Sabbath's musical horizons even further. Many changes later, the original Black Sabbath lineup reformed to play three songs on July 13, 1985, at the Live Aid concert in Philadelphia, PA. By this time, Iommi was hard at work on his first solo album with former Deep Purple and Trapeze vocalist/bassist Glenn Hughes. However, due to marketing-related pressure from the record company, 1986's Seventh Star was credited to Black Sabbath Featuring Tony Iommi.
The band's lineup, which sometimes included Butler, often fluctuated. Over the next few years, Iommi-led Black Sabbath albums included The Eternal Idol, Headless Cross and Tyr. A brief reunion of the Iommi/Butler/Dio/Appice lineup issued Dehumanize in 1992 and toured. In 1997, Iommi joined forces once again with Osbourne and Butler to join the Ozzfest tour. With Ward returning, Black Sabbath released the live album Reunion in 1998; fans were thrilled about the inclusion of the new studio tracks "Psycho Man" and "Selling My Soul." The original lineup toured on its own in 1999 and often headlined the Ozzfest tour in subsequent years.
In 2000, Iommi released his first proper solo album. Iommi featured guest performances from an all-star "who's who" of musicians heavily influenced by the guitarist's three decades of work. Some of the participating guests and included Osbourne, Ward, Queen guitarist Brian May, Henry Rollins, Billy Idol, Dave Grohl, The Cult vocalist Ian Astbury, Philip Anselmo, Smashing Pumpkins vocalist/guitarist Billy Corgan, John Mellencamp drummer Kenny Aronoff and Type O Negative vocalist/bassist Peter Steele.
In June 2002, Iommi and Osbourne participated in what was arguably one of the most fascinating, surreal moments in heavy metal history. As part of 'The
Queen's Golden Jubilee' celebration at London's Buckingham Palace honoring Queen Elizabeth II, they led the house band, which featured drummer Phil Collins, in a performance of "Paranoid."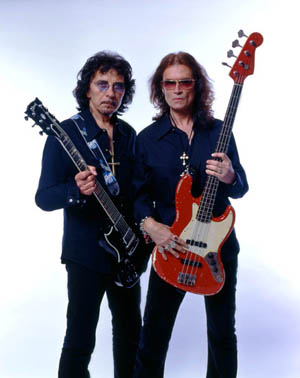 2004 saw the release of the critically acclaimed The 1996 DEP Sessions.
Iommi had worked with Hughes in 1996 to do some writing and recording, but the tapes remained unreleased until Iommi re-discovered them. Poor-quality bootlegs of the unfinished tapes turned up over the years, but The 1996 DEP Sessions featured the complete, finished recordings with proper mixing and mastering.
Iommi long ago cemented his place in rock 'n' roll history, but he is not content to rest on his laurels. He is always excited about songwriting, recording and touring with both old friends and new ones. The result of Iommi's passionate creation of music is a body of work from yesterday, today and tomorrow that will blaze eternally.
SELECT TONY IOMMI DISCOGRAPHY:
With Black Sabbath:
'Black Sabbath' (1970)
'Paranoid' (1971)
'Master of Reality' (1971)
'Black Sabbath Vol. 4' (1972)
'Sabbath Bloody Sabbath' (1974)
'Sabotage' (1975)
'We Sold Our Soul For Rock 'N' Roll' (1976)
'Technical Ecstasy' (1976)
'Never Say Die!' (1978)
'Heaven and Hell' (1980)
'Mob Rules' (1981)
'Live Evil' (1982) - live
'Born Again' (1983)
'Seventh Star' (1986) - Black Sabbath Featuring Tony Iommi
'The Eternal Idol' (1987)
'Headless Cross' (1989)
'Tyr' (1990)
'Dehumanizer' (1992)
'Cross Purposes' (1994)
'Forbidden' (1995)
'Past Lives' (2002)
'Symptom of the Universe: The Original Black Sabbath (1970-1978)' (2002)
'Black Box: The Complete Original Black Sabbath 1970-1978' (2004)
Solo Work:
'Iommi' (2000)
'The 1996 DEP Sessions' (2004) - Iommi With Glenn Hughes
'Fused'