This is the feature where we revisit bands or albums that are worthy of attention but may well have been overlooked over the years…we also signpost the definitive CD versions and related albums worth investigating.
If you have your own neglected band/album send us a review!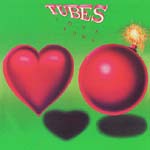 By 1985, The Tubes had virtually imploded. They managed to eke out one last album thanks largely to production wizard Todd Rundgren who also contributed songs and instrumentation.
Back in 1977 it was a different matter. The band shipped to the UK in a blaze of publicity as part of their first European tour which featured 'Mondo Bondage' and 'Quay Lewd', the onstage persona of frontman Fee Waybill. It all got out of hand, when London councillors thought the whole thing too depraved and therefore forbade any live appearances in the city. This somewhat alarmist attitude, fuelled by a pre-tour press trip, spread to other towns on the tour.
The band released a definitive live album 'What Do You Want From Life' which chronicles these onstage antics but five days into the second tour of the UK in spring 1978, Waybill fell from the stage and broke a leg and the remaining dates were cancelled. No doubt there was a sigh of relief in Town Halls across the land.
By 1979, with production by Rundgren, the band had tamed their approach and produced the superb 'Remote Control' a paean to the world of TV, its vanity and quirks. This was followed by 'The Completion Backward Principle' and 'Outside Inside' which yielded the minor hits 'Don't Want To Wait Anymore' and 'She's A Beauty' respectively.
1985's 'Love Bomb' is frequently overlooked, possibly because by 1985 The Tubes were a spent force. Waybill, for his part, appears to have disowned it. Whilst distinctively Tubes in tone, there is no doubt that the Rundgren faery dust has rubbed off and the album may actually appeal more to fans of the Runt.
The album is full of strong melodies, rallying choruses and immaculate musicianship as evidenced on 'Piece By Piece', 'One Good Reason' and the superb 'Feel It' which Rundgren reprised on his recent 'Liars' tour in the UK.
It is not surprising that Rundgren subsequently used keyboard ace Vince Welnick in his band and, later, Prairie Prince on drums. Waybill subsequently wrote material with AOR king Richard Marx. A later incarnation of the band, with Bill Spooner fronting, added weight to the U.S. cabaret circuit whilst a band line-up with Waybill, Roger Steen and Rick Anderson play occasional gigs in the States.
The Tubes canon also splits: into the acerbic wit, stage flamboyancy and punk energy of their earlier offerings to the later AOR stylings. No doubt this juxtaposition polarised and probably confused fans. However, 'Love Bomb' in particular is an overlooked classic.


---
Don't miss:
Love Bomb (Reissue 1993, BGO Records BGOCD188)
Don't skip:
Piece By Piece, One Good Reason, Feel It

Worth investigating:
Infomercial (Hux Records HUX 017)
(features "Completion Backward Principle tour' recorded by the BBC, July 1981)
Text © 2004 David Randall
Further info:
Online Store

>> Related Interview
---
Feel It
© 1985/1993 The Tubes/Capitol Records. All rights reserved.
---
| | |
| --- | --- |
| | Print this page in printer-friendly format |
| | Tell a friend about this page |