TONY MILLS
Tony Mills is the vocalist with Norwegian band TNT. In 1983 he joined Shy and enjoyed considerable success before leaving to join Siam.
He rejoined TNT in 2006 and the band releases a new album 'Atlantis' in November 2008. In what has been a busy year, Tony has also released a solo album 'Vital Designs'.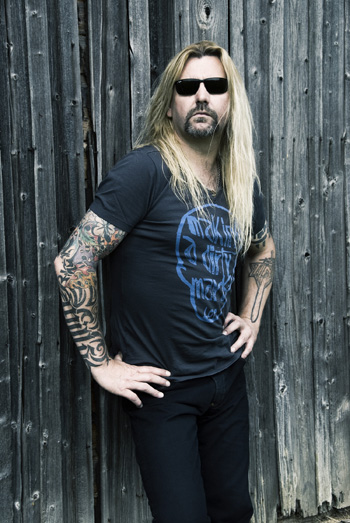 What are you currently up to?
I've just returned from Norway to spend a couple of weeks with my family before I set out again for more concerts there.
The last two weeks have been spent promoting the new album with live TV performances etc. in Oslo / Trondheim.
Could you take us through your excellent new album 'Vital Designs'
The songs were all written individually but with stark subject matter that meant the songs could all be taken as individual songs in their own right, or alternatively be inextricably linked together with a sinister undercurrent throught the album. That is why I gave each song a subtitle on the sleeve. I left it for the audience to make up their own story.
Like 'A Vital Design' , was really all about things that we can scarcely be without these days.'
'Exclusion Zone', was no different in that it was purely and simply about having your liberty removed and what happens after that.
Obviously, 'Miles From Nowhere', was a cover of a Cat Stevens track from 1970 but it fitted in so well, I couldn't resist it.
Buried deep inside me somewhere is that grain of doubt that must hang in every atheist's heart. That subject has pulled many songs, even a complete album of me in the past and surely enough it reared its head again on this record with 'God Called My Name'.
The 'resolve' of it all, and having passed through many turmoils of our lives only led me in the end to 'Glory Days' and the final retrospective view on what life was for us during our time.
Do you plan to do any solo shows to support this album and who else would you like to write/record with if given the chance?
I already played some solo shows in Norway with Neil Hibbs and Geoff Nicholls from Sabbath came along for the ride. TNT's commitments limit what else I can do to promote any solo work.
Could you take us through your pick of the songs on the cracking new album by TNT 'Atlantis'? Did you record with the rest of the band or is a case of recording your vocals & then sending them onto the band in Norway?
I think my favourite tracks on the new album are the title track, ATLANTIS, TANGO GIRL and the opening track ( which has now become the opening track for the current touring schedule) HELLO HELLO.
I recently had to take Tango lessons with a Swedish teacher to perform the dance during the solo from Ronni Le Tekro on live TV and on stage. What a blast !
Atlantis works so well for me, it is a real dreamscape of a track and is very strong live.
And Hello Hello has replaced Invisible Noise as the opening track. Judging by the audience's response, we did the right thing. All the vocals were recorded in Oslo, TNT is not a band that records in separate places, we live together when we record for several weeks at a time.
How did you come to join TNT and why do you think some TNT fans have been not so keen on the band's sound on these last two albums?
I got a call from Mark Alger at Z Records during May 2006 informing me that Tony Harnell had left and wondered whether he should contact them on my behalf.
As I had just had a less than pleasant experience singing for The Sweet on their Danish tour, I was only doing some session work at the time and thought it would be a great opportunity to work with the guys.
I had one gig left to do with SHY and TNT came to Berlin to see the show. A week later I was rehearsing in Oslo and the following week we were on tour.
There will always be debate over whether change is for the better or not. And so there has been with this situation, ever since I joined the band. But I have to question that debate in this case, when I am looking at the people queueing up at the signing sessions and 50% of them are under 20 years old.
It seems that the older fan-base have dwindled because of the change of style and have been replaced by a younger generation. Surprising, yet nevertheless, refreshing !
How did you get your first break into the music business? What piece of advice would you pass onto budding musicians?
I don't think I had a real 'first break'. I played live and recorded demos for three years before a deal landed on the table. It was at this point that I should have got a lawyer and an accountant before we looked for a manager.
But, a strong manager opened a lot of doors and pushed hard until the right money was offered to support the band and its plans.
Then, off we went around the world on a mission. It kinda snowballs once you get going. But, you have to remember that there's no such thing as 'something for nothing', it never works out that way and it's important to make sure you are protected legally against people who are not what they seem. And there are a lot of them about ! Especially in the music business.
I personally have had three managers. Needless to say, I dont have one any more. But determination is the key, if you don't have the drive and ambition to want to be a full time working musician, it will be obvious to everyone else. You have to really want it, or else you should do something else.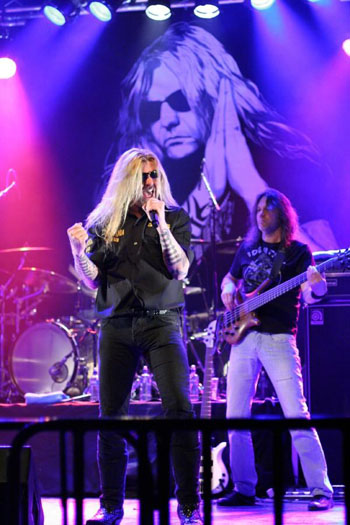 How do you view the current music scene? Have you seen an upswing in interest over the past couple of years in melodic/hard rock?
Without a doubt. Admittedly, I have been in Norway now for over two years and the music scene is prolific there. All manner of music is available to be heard at all levels. I have never seen a rock scene like it, there are rock bands everywhere you look! But they get the airplay and they get the audience turnout and with things like financial assistance from the government to encourage art etc., they can only succeed. Something the English government should consider!
I can't really consider myself as part of the 'melodic rock' scene anymore, because of how TNT write and move forward and what different people's opinions of what exactly 'melodic rock' is.... But rock in general seems to have a good profile now, certainly in Scandinavia anyway. The internet tells me that there is a lot going on elsewhere as well.
Shy - what were the highlights and is there any possibility you may work with the band again at some point in the future?
The highlights were touring across the US and Europe, accompanying Ian Hunter and Mick Ronson on stage at Worthing Town Hall, recording Excess All Areas with Neil Kernon in Holland in '87 and working with many writers inc. Don Dokken and Jeff Scott Soto in Los Angeles.
But the best gigs were the Marquee shows in the late 80's. TNT's plans for European domination will be extended this year, so I don't think I will be departing to do anything else. But I have agreed to sing with SHY at the Classic Rock show at the NEC on November 9.
What do you like doing with your spare time outside of music?
I spend quite a lot of time with my daughter, and even then I don't get away from music; she's too busy singing the new TNT album for me to get away from it !
Apart from that I like a wide variety of films and drama that I catch up on when I'm home. And some beer every now and again !
Any plans to do a box set or collectors versions of your Siam and solo albums?
Wow, well I really hadn't considered that ! I am talking to Neil Hibbs about writing a rock opera at the moment, maybe it would be an idea after that was finished we could consider such a campaign.

Message for your fans...

If it wasn't for ardent followers of what I have done, then I guess I wouldn't be doing it at all ! I have to say that the fans in Scandinavia have been a joy to behold; now it seems that all the hard work over the years has been worth it and I know I wasn't wasting my time on a worthless cause.
Singing rock music is my passion and i was never any good at anything else, so that's what I did. I still have loyal fans in the UK as well, and people travel from all over the world to see TNT play live, just as they did for SHY, I think it takes a determined person to be an avid fan to that point and it has to be admired.


---
Interview © 2008 Jason Ritchie.
All rights reserved.
Band website (TNT)
---
| | |
| --- | --- |
| | Print this page in printer-friendly format |
| | Tell a friend about this page |