TNT Atlantis Metal Heaven (2008)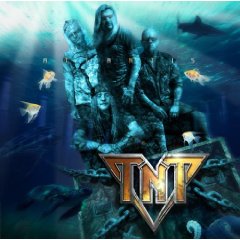 Second album by the band since Tony Harnell left to be replaced by former Shy vocalist Tony Mills and if you're a TNT fan hankering after the band's Harnell era sound then you will be disappointed. But that's missing the point as this is a new, in many ways revitalized version, of the band since Tony Mills joined and Mills puts in some of his most melodic vocals yet.
Kicking off with radio friendly 'Hello, Hello' is a fine way to start the album off and there are some lovely helium like Sweet harmonies on the chorus.
'Peter Seller Blues' is wonderful not only for the way the song name checks such greats as David Niven, Britt Ekland and of course Peter Sellers but the tune which mixes blues with a pop beat, featuring a great cymbal beat by Diesel Dahl.
'Tango Girl' has as you'd expect a tango beat and some Queen-like chorus vocals, again another great song. 'Me And Dad' is the album's ballad and is a strong tune mixing acoustic guitar, keys and Mills vocals to great effect. The only song that I don't really like is 'Taste Of Honey' which sounds out of place with the rest of the album and is a bit too sweet even for my AOR friendly ears! 'Bottle Of Wine' is a simple feel good song about two friends reminiscing over, you guessed it, a bottle of wine. The other real stand out on this album is the closing song 'Had It, Lost It, Found It' one of the few songs where Ronnie Le Tekro gets to let fly on his guitar.
To be honest TNT fans will be split again on this release as those expecting a sound like 'New Religion' or 'Transistor' will be disappointed but other fans who are more willing to let the band move into a few new musical avenues will enjoy this album.
As a long time fan of Tony Mills he sings some of his most melodic vocals (for his more metal vocals grab a copy of his latest solo album 'Conspiracy') on here and for that alone it makes this album a 'must have'.
****
Review by Jason Ritchie

---
| | |
| --- | --- |
| | Print this page in printer-friendly format |
| | Tell a friend about this page |