SYMPHONY X
Symphony X have a new album out called 'Paradise Lost'. These prog metallers have been growing their fanbase and are currently promoting the album via touring and festival appearances. In the autumn they tour in Europe with Dream Theater.
Here the band take us through the new tracks.
1. What are you currently up to? (E.g. touring/studio, etc.)
Michael Pinnella: We are currently on tour. Started out in New York, then Puerto Rico, Milan( Gods of Metal) and now we are at Sweden Rock.
We fly home for 2 days off and then tour 2 weeks in South America, followed by 4 weeks in the States.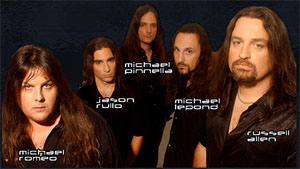 2. Could you take us through the tracks on the new album 'Paradise Lost' please (eg ideas behind the songs etc)...
Michael Romeo: Well, the idea for the whole CD was to create music that was heavier, more aggressive and more guitar driven. Also with a darker atmosphere, both musically and lyrically.
We decided on Paradise Lost as the theme for the CD - although it is not a concept CD, it does have an underlying theme going on. The lyrics are based on ideas and emotions portrayed in Milton's work - betrayal, revenge, lust, etc. Musically, it is much more aggressive - keeping the feel of these ideas. Brutal and savage at times, but melodic and passionate at others.
Oculus ex Inferni - We wanted to start the CD off with something that would introduce the basic feel of the rest of the album - a short instrumental/ orchestral piece that was dark, heavy, and somewhat "hellish". I wrote this piece early on and eventually modified it to be the intro.
Set the World on Fire and Domination and Serpent's Kiss - lyrically about betrayal, revenge and corruption with some reference to Milton's poem. The music, following the theme of the lyrics, is aggressive and dark. We also tried to keep the songs as focused as possible - right to the point - cool riffs, good choruses, and a bit of the orchestral/ choir elements to give it that gothic / pseudo-religious / heaven and hell vibe.
Paradise Lost - We wanted a few softer songs to offset the heavy stuff - this one of my favorites, I love the chorus, it is typical to us, too- somewhat progressive and lush.
Eve of Seduction, Walls of Babylon and Seven - Back to a few heavier songs - Eve of Seduction is about temptation and lust - it is an up-tempo tune with some cool guitar riff stuff.
Walls of Babylon is our war song - probably the most metal tune, but with a bit of a jam section up front - a lot of choirs and chanting along with some world instruments throw in there with the heavy guitars.
Seven is us in our semi-classical mode, a lot of guitar and keyboard interplay - kind of reminiscent of some of our older material, but heavier and updated a bit.
Sacrifice - another mellow song - a ballad. A great vocal performance by Russ layered with acoustic guitars, piano and string section.
Revelation - The longer track - and bits of everything: heavy riffs, progressive sections, etc. There are also a lot of reference to the Divine Wings of Tragedy CD - musically and lyrically - we thought we would have some fun with this one, and thought the fans would enjoy it as well.
3. Michael Romeo has said this new album is the best Symphony X ever made. Is it true and how do the band feel they have developed musically since the debut album?
Jason Rullo: I would say it's definitely true in terms of having all the things the band truly encompasses as far as having the classic Symphony X sound, killer metal riffs and yet still having the progressive element.
Paradise Lost has an attitude that I don't think was really present on previous SX cd's. I think since the debut album we have all become better musicians, more mature and more able to deliver what it is we hear in our heads. It's an ongoing process but we are pretty happy with this one for sure.
4. Any plans for a live DVD?
Michael Pinnella: Absolutely.We are looking very forward to creating a SX live DVD in the near future.
5. What sort of live set can fans expect when you support Dream Theater later this year? Which countries/venues do you particulary like appearing at?
Michael Lepond: The live set will be geared toward promoting the new CD, but we will also play enough songs to satisfy the fans who want to hear the old classics.
6. Have you seen an upswing in interest in the band in the US, given that progressiv emetal music is much bigger here in Europe at the moment.
Michael Pinnella: This genre of music is growing very quickly in the USA. Many of our fans are much younger. This is a signal that our style of music is on the rise and will eventually hit America like heavy metal in the 1980's.
7. How did you get your first break into the music business? What piece of advice would you pass onto budding musicians?
Michael Romeo: My first break was actually from a guitar/instrumental demo tape I did in about 1991. It was featured in some guitar/music magazines in the States and Japan...it eventually lead to the formation of the band, Symphony X, in 1994.
My advice would be to just keep at it relentlessly - be creative and open-minded to all kinds of music. .
Michael Lepond: The best piece of advice to new musicians is to never give up and do not listen to the negative feelings from those who have failed in this business.
8. What do you enjoy doing in your spare time?
Michael Romeo: Movies, music, spending time with the family.
Michael Lepond: Reading and watching TV about history, mythology, etc.
9. Message to your fans.
Michael Lepond: We are really proud to present to you our new CD. We hope you like it and we are excited to perform it live for you. We always appreciate your support and look forward to seeing all of you on tour.
---
Interview © 2007 Jason Ritchie. All rights reserved.
---
| | |
| --- | --- |
| | Print this page in printer-friendly format |
| | Tell a friend about this page |