SYMPHONY X Paradise Lost Inside Out (2007)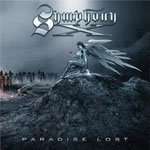 There are a lot of top notch progressive metal albums out this year including Threshold, Kamelot, Dream Theater and now Symphony X weigh in with another 'must have' album.
Lyrical references include Milton's poem of the album's title plus Homer's 'The Odyssey'. You can tell just by the string and choir led intro track that you are in for a treat - sheer pomp glory!
The whole album is a highlight really with Russell Allen showing the more aggressive side to his singing than appears on the Allen/Lande albums. Just listen to 'Serpent's Kiss' or the title track where he really lets fly vocally.
Musically it all hangs together well with no one band member dominating or running away with pointless soloing of the 'look at me' variety sometimes. Michael Romeo's guitar solos often have you skip back and hear them again! Stunning yes, flashy no.
They have done it again with another fine album that hangs together well musically and has plenty to keep the listener coming back for more.
This album sees them use more backing arrangements coupled with the strong melodies they are so good at.
****
Review by Jason Ritchie
Paradise Lost
© 2007 Inside Out. All rights reserved.
Interview

---
| | |
| --- | --- |
| | Print this page in printer-friendly format |
| | Tell a friend about this page |
***** Out of this world | **** Pretty damn fine |
*** OK, approach with caution unless you are a fan |
** Instant bargain bin fodder | * Ugly. Just ugly