STEVE MILLER BAND Live! Edsel EDSS 1056 (2011)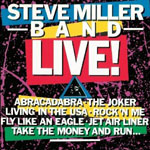 They say absence makes the heart grow fonder. That's certainly the case with 'Steve Miller Band Live!' Assuming you haven't heard this album for years, just one look at the song list recalls a time when Miller was at the very apex of Classic Rock, and you immediately wonder why you never returned to such a classic set in the intervening years
The answer probably lies in the fact that familiarity breeds contempt. When this album was released many of these songs had been played to death and the fact that Miller was touring on the back of his great dance hit 'Abracadabra' alienated a significant number of his original fans. But be that as it may, all these years later this live album delivers on all counts.
Certainly better than the later but only recently released 90's 'Live in Chicago' bonus disc, 'SMB Live!' appears to be a fairly truthful recording of what went down in Detroit in April 83, though the dual harmonica sound of Norton Buffalo on the intro to 'Livin in the USA' suggest either the use of a backing tapes or dubbing.
But no matter, for the most part this is Steve Miller in his element and a fine example of one of the few musicians who can transfer their studio craft on to the live stage. To that end, the late Norton Buffalo's harp playing and the mid-number guitar/harp break is perfect on 'Livin in the USA', as part of a superb arrangement. Steve also doubles up the vocals on 'Jungle Love' after a 'Mars Attack' style keyboard intro and after a brief guitar flurry by Kenny Lee Lewis, turns 'Mercury Blues' into a down home vocal/harp triumph.
Aside from the slightly different live arrangements and band/crowd interaction - especially when the home crowd responds to the Detroit reference in 'Livin in the USA' - what makes this album worth a revisit is simply the quality of the songs and the sequencing which flows like a real gig should, up, down and sideways. Comparing 'SMB Live!' to any number of his greatest hits output, you have to conclude that unless you are a long time Miller fan in need of his early career fix, this album delivers 10 tracks everyone knows and loves.
The band sound at their peak as a road tested outfit playing some of the best rock of the late 70's early 80's with earlier material like 'The Joker' and 'Livin in the USA' sounding even stronger than at the time of their original release.
'Steve Miller Band Live!' is an essential celebration of how it was and probably how a lot of us wish it could still be. It was that niche that was quickly filled by Classic rock radio and gave Miller another decade at the top with the material sparklingly brought life here.
*****
Review by Pete Feenstra
Related>> Reissues
Related>> Reissue (Wide River)
---
| | |
| --- | --- |
| | Print this page in printer-friendly format |
| | |