THE STEVE MILLER BAND Reissues Edsel (2011)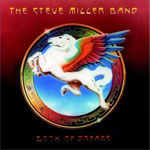 After ten years of working his way to the top of the Classic Rock tree with 1976's 'Fly Like An Eagle (EDSX3010) and its 1977 companion album 'Book of Dream (EDSS1051) Steve Miller had hit pay dirt. His dance friendly pop rock appealed to the MTV generation and he was ever ready to make use of contemporary technology. But in retrospect his success came with an artistic price. Where once Miller had been the independent recording spirit, who crossed over from blues to psychedelia and ultimately into rock's mainstream, he reigned in the guitar playing and embraced enough keyboard generated dance beats to keep many a disco floor packed.
So it was that Book of Dreams provided him with three big hits, 'Jet Airliner', 'Jungle Love' and 'Swingtown' (co-written with Chris McCarty of 'Wild Mountain Honey' fame). In between the singles he continued to work his unique style on the close to the mic vocals of 'Wish Upon A Star', the Norton Buffalo harp inflected 'Wintertime', and Miller's own version of 'Sacrifice', a song that co author guitarist Les Dudek made his own. Miller's version over eggs the cake with synth noodles and while still an excellent effort doesn't quite have Dudek's edgy vocals or up in the mix guitar. The album finishes with an instrumental 'Babes in the Wood' with a vaguely Celtic flavoured keyboard motif and tambourine. 'Book of Dreams' remains the best of Miller's later recorded output striking a balance between his pop and rock sensibilities. *****
The following 1981 release Circle of Love polarised fans but is a personal favourite, if only for the contentious primitive cry of the 'Macho City' suite. 'Circle of Love' is a classic example of Miller teetering on the brink of conforming to commercial expectations and his social concerns. You have to leap back to his biting lyrics on 'Livin' in the USA' to make a direct reference to a similar lyrical sensibility. But the combination of cleverly rapped out prescient lyrics - which looked unflinchingly at the bleak 80's political landscape - and psychedelic tinged dance beats culminating in a worrying chopper sound on the outro, is one of Miller's best ever moments.
Steve's chart friendly alter ego was not totally lost on this album, as he entered the lower reaches of the chart with the pop twang of 'Heart Like A Wheel', while the title track is full of his breathy harmony singing and rich backing vocals. 'Get On Home' evokes the Beach Boys early years, with the typical sugary lyrics given more weight than they deserve by some subtle call and response lines and fine harmony singing. The ten lover lyrics and political concerns of 'Macho City' couldn't be more opposite, but that's Steve Miller for you, a Space Cowboy with a soft centre. ****
You get the feeling that by the time of the 1982 Abracadabra, Steve's artistic independence was being covertly compromised by the preponderance of dance beats. You have to look no further than the mega hit 'Abracadabra' to realise Steve Miller was at the very heart of MTV culture, and his output was unlikely to stray too far from that commercial approach. Additionally as he explains in the liner notes, he placed a greater emphasis on songs, sharing the job with band members, guitarist Kenny Lee Lewis and drummer Gary Mallaber. The results are mixed. Outside of the big single which Miller wrote alone, there's a retro feel to tracks like the doo-wop inspired bv's of 'Give It Up' and the laboured Beached Boys influenced 'Never Say No', while the snappy 80's style love song 'Things I Told You' reflects the fast changing music scene of the time.
Perhaps the greatest joy of this album is Miller's close attention to his vocal performance. The mellifluous swooping vocals on 'Young Girl's Heart' again helps you overlook the banal lyrics while the double tracked vocals on 'Cool Magic' are subtlety personified. The way the melody line twist and turns is a clear example of the emphasis he was placing on songs, but ultimately the languor of the closing ballad 'While I'm Waiting' just about sums up a passable effort. ***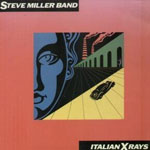 Italian XRays was also not without its problems. The combined artist/label enthusiasm for new technology eventually became burdensome and costly. The result was a digital album of its time with plenty of Byron Allred's keyboards and predictable disco beats.
The title track is Miller at his best, great vocals, a deft techno arrangement with suave production values and great vocals over a sharp dance track, while the single 'Shangri La' extends the dance groove with linear synth lines, electronic handclaps a repeated bass line and mixed back vocals. The overall feel is not unlike the angular disco of Talking Heads, all very 1980's. And if you liked Miller's shift in the direction of the dance floor, you will doubtless love 'Who Do You Love' a co-write with original band member Tim Davis. It's a trademark Miller piece full of dreamy vocals, nuanced bass lines and a fluid hook.
There's also a Zappa style comedic feel to the off the wall single 'Bongo Bongo', with more handclaps, synth riffs and baritone vocal accompaniment. Another Miller /Davis collaboration 'Out Of The Night' is pure South Californian cool, evoking influences such as ELO and The Bee Gees to the soft rock of Fleetwood Mac.
And while 'The Hollywood Dream' doesn't quite have the lyrical weight, let alone enough of a strong melody to match another peerless vocal performance, overall 'Italian XRays' is arguable Steve Miller's most underrated album.
It's frightening to realise that despite the fact he had by now fully embraced modern technology and had become a de facto crossover rock/dance act, without record company support the album sunk without a trace. And yet Italian XRays' is an album still worth exploring. ****
Review by Pete Feenstra
Related>> Album review
---
| | |
| --- | --- |
| | Print this page in printer-friendly format |
| | |