STEVE MILLER BAND Wide River Edsel EDSS 1055 (2011)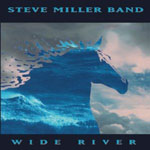 Steve Miller's 'Wide River' is the glorious comeback album that never was. In 1993 Miller was well positioned for its release having gained an unexpected new generation of fans through Classic Rock radio and a best selling greatest hits album. But a combination of bad timing (a badly advised Australian tour) and record company collapse meant 'Wide River' effectively sunk without trace. The rock industry's loss in '93 is our belated gain, for after dabbling with keyboard led techno and sugary love songs in the 80's, Miller came back with an album full of finely honed, beautifully played and wonderfully sung material that strikes a delicate balance between Miller the smooth rocking balladeer and the deeply entrenched bluesman.
'Wide River' is the work of a reinvigorated recording artist who rejigged his musical personnel to team up with Chris McCarthy of 'Serenade' and 'Swingtown' fame, alongside his younger brother Steve. Equally important is the return of original SMB member and keyboard player Ben Sidran and his son Leo, who doubles on keyboards and guitar as well as contributing 4 songs to the album.
The combination of musical impulses are given a sheen and warmth by the great man himself who uses lashings of close to the mic vocals, potent backing vocal harmonies, call and response lines, repeated choruses and Beatle style 'oohs and aaahs' to produce his most compelling and essential work since the 70's. The result is a cd not too dissimilar to the Miller/McCartney collaboration on the latter's 'Flaming Pie' album.
But after a ten year gap with no new album, 'Wide River' invited a leap of faith for Miller fans. There may not be the swagger of the 70's guitar friendly albums or the dance friendly techno tinged 80's output, but 'Wide River' is all about Miller the song smith. He's a master of metaphor as on the title track and the hopeless romantic on 'Lost In Your Eyes' - all Beatle style layered vocals, acoustic guitar and honey dripping vocals - and 'Perfect World' with its repeated chorus. He's also got a sharp sense of dynamics as on the tightly wrapped funky feel of 'Conversation' which is punctuated by an unexpected cut glass guitar solo and a telling stop-time moment before a return to the verse. There's a similar taut feeling to 'Circle of Fire' with its cluster of guitar notes and harmonies. Miller also remains one of the few rockers able to reinvent the blues in a contemporary vein as on the magnificent 'Stranger Blues' with its glorious horn and slide guitar intro and the startlingly original sax led arrangement of Otis Rush's 'All Your Lovin (I Miss Loving). There's even room for a sophisticated Steely Dan influenced 'Walks Like A Lady' with a significant keyboard part form Leo Sidran.
There are many highlights here but it is Steve's undulating, close to the mic vocal sweep and essential bv's that carry so many of the songs. On 'Blue Eyes' the repeated chorus acts like a mantra and flows over you like a gentle wave under clear blues skies.
'Wide River' is one of those very rare albums where the artist sounds in his element doing what he does best, apparently free from record company expectations and stylistic demands. The cd may have been lost to the market some 18 years ago, but right now from a 2011 perspective 'Wide River' sounds like a great comeback album. This is mature vintage Classic Rock showcasing the best Steve Miller songs for years and mature rock music fashioned by a truly great band. Not so much 'The Gangster of Love' as referenced on 'Cry Cry Cry', as the return of a finely honed rock musician flying like an eagle with a great album.
*****
Review by Pete Feenstra
Related>> Reissues
Related>> Reissue (Live)
---
| | |
| --- | --- |
| | Print this page in printer-friendly format |
| | |