Just witnessed your best live gig?.. send us a review!
ROCK & BLUES FESTIVAL
Skegness, 28-30 January 2011
Photos by Noel Buckley
Day 3: Sunday 30 January 2011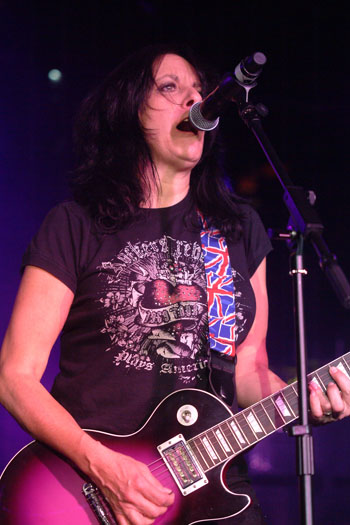 After another late night the night before, it was a quick scramble to make breakfast in time. ITV were showing the FA Cup highlights at a sensible time of 10am which meant it was sofa time again to see out the morning. (Never have understood why BBC repeat Match Of The Day at an ungodly hour of seven in the morning when most of us who missed it the night before are nursing hangovers.)
The midday slot was awarded to the Gary Fletcher Band who was taking time out from playing the bass in the Blues Band and swapping for the acoustic guitar. With his band they played some deep melancholy blues of originals with every song a winner.
The Hamsters are a band that tour up and down the country for many years now and are willing to play every pub or club that will have them. The band have built up a loyal following with their Hendrix inspired rock.
From the South of the River Thames were Nine Below Zero, a band that has crossed over into attracting fans from other genres of music. The band has a solid formula that still works and I'm sure they attracted many new fans today with their performance of harmonic blues.
Before the masses rushed off for their Sunday roasts, it was left to Rock and Blues Fest favourites Roadhouse to entertain, who added a bit of glamour with a trio of female vocalists.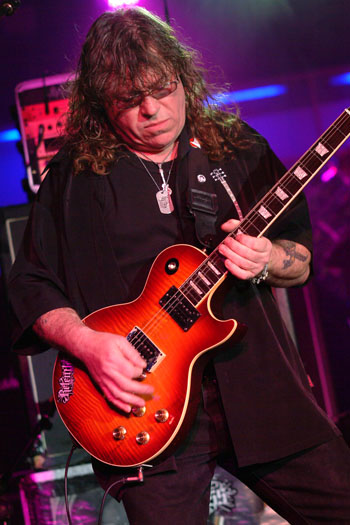 Starting of the evening's entertainment were Juicy Lucy, although now without Ray Owen who retired due to ill health the band continue as a power trio led by guitarist/vocalist Mr Fish.
The band made a big noise with their psychedelic acid filled rock. 'Mississippi Woman' and the hit single 'Who Do You Love' were crowd favourites. A band still worthy of watching.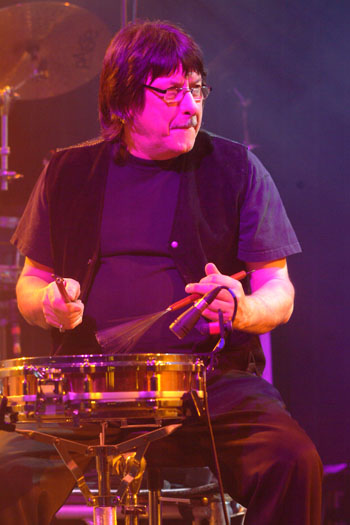 Now this was something special, the Ric Lee Blues Project added a touch of class to the preceedings. Having a breather from his duties in Ten Years After, drummer Ric Lee assembled a stellar cast including Mick Clarke on guitar and the wizardry of Bob Hall on keyboards.
Ignoring the better well known songs Lee opted to play some of his favourite numbers from the Ten Years After catalogue including a swinging 'I Want To Know' and ''Don't Want You Woman' as well as a few originals from his fellow band mates. Lee also performed 'The Hobbit' which displays his vericous drumming abilites. It seemed like Woodstock was only yesterday. With a band this good, they could've played anything.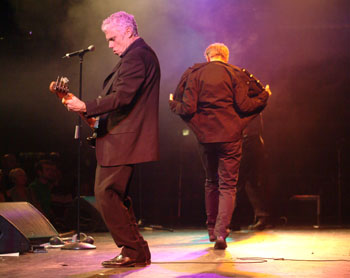 Depsite having no original members (Although the core of this band have been together for over twenty years.) Dr Feelgood do exactly what it says on the tin. British Rhythm and blues at it's best playing some Chess classics and of course 'Milk & Alcohol' goes down a storm.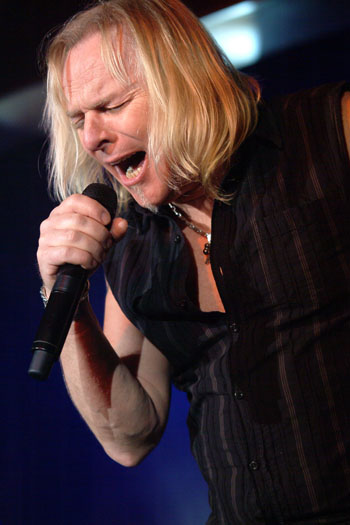 Uriah Heep have been called many things over the years but I did guffaw to myself when the lady announcer introduced ''Ladies and gentlemen, will you please welcome the gorgeous Uriah Heep'' but I have to say the Heep were simply stunning.
Playing a 90 minute set Uriah Heep had the audience in the palm of their hands. They could've easily opted to play safe with a greatest hits set at a festival like this, but the band still put in five numbers from their last album 'Wake The Sleeper'. The band played with perfection.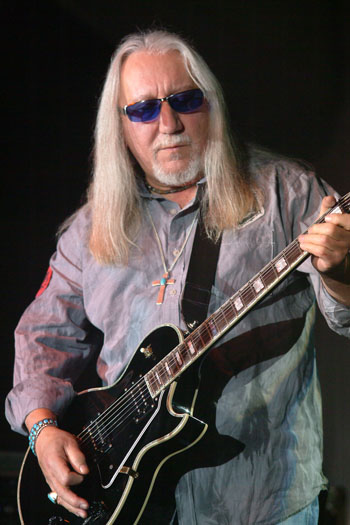 As the set progressed the band were obviously feeling the vibe. Mick Box was wah-wahing all the way during 'Look At Yourself' and Trevor Bolder was going into a world of his own playing playing the bass solidly like it was a lead guitar during 'July Morning' and 'Lady In Black'.
Everyone played their part.
I've seen the Heep many times but I think this has to be to best i've ever seen them. With a new album on the horizon 2011 is going to be a busy year for the band, but Skegness was the perfect rehearsal. A five star performance. Band of the weekend.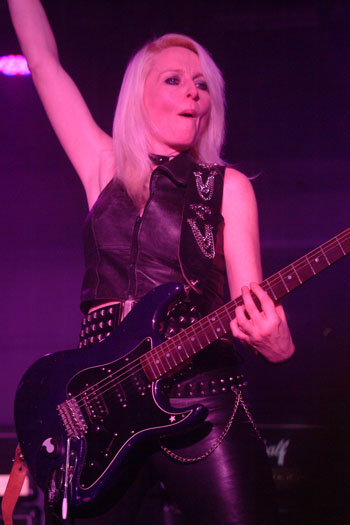 Admittedly Girlschool had a tough job ahead of them following the Heep, but you can't help but warm to the cheekiness of the girls on stage who play directly in your face. All those early classics from the glorious NWOBHM days were present and correct. The girls were having fun and so was we.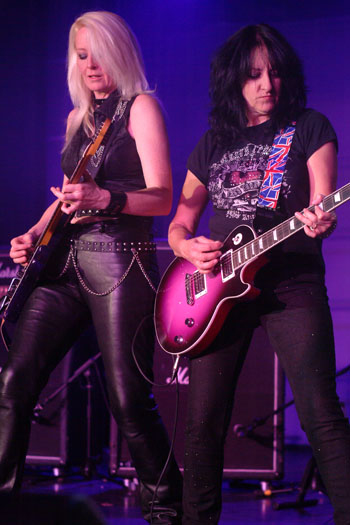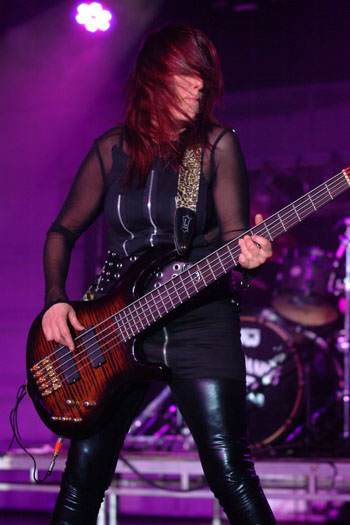 Girlschool are another band I've seen many times and i never tire of watching them. The warmth from the stage reflects back off the audience. The girls took it all the way and left me feeling 'Yeah Right'.
Closing on the Centre Stage were King King, a blues band so good they named themselves twice. King King featuring Alan Nimmo on lead guitar and vocals are something of a national hidden treasure. Their debut album 'Take My Hand' has just been released, but word of mouth has already spread about these boys.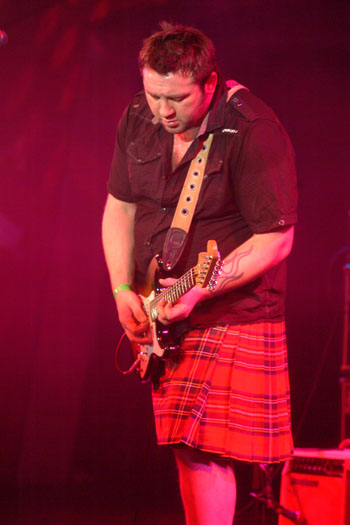 Coming on stage kitted out in kilts King King belted out one great song after another with their Stevie Ray Vaughan sounding rocking blues. This young band will bring the blues to a whole new generation. That is something that is long overdue. Get digging for that treasure.
Once again is was easy to see why the Great British Rock and Blues Festival sells out on reputation alone. Another great weekend away. See you next year boozers.

Review by Mark Taylor
Photos by Noel Buckley
Girlschool interview by Mark Taylor
---