Just witnessed your best live gig?.. send us a review!
ROCK & BLUES FESTIVAL
Skegness, 28-30 January 2011
Photos by Noel Buckley
Day 1: Friday 28 January 2011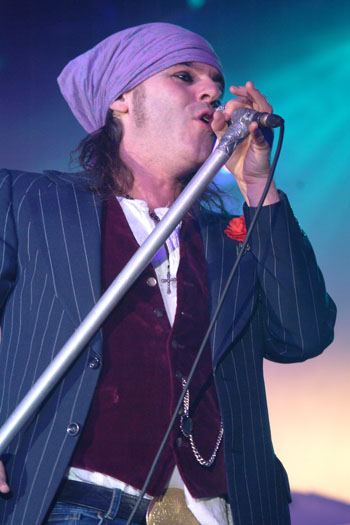 After having such a great time at last year's Rock & Blues Festival at Butlins Skegness, I wasn't going to pass on the opportunity on going for a second time. A weekend mainly focused on the blues but enough to keep the rockers happy, the Big Weekend away offers a mixture of the old and new, but what they do have in common is that the talent is in it's abundance.
With some quality accomodation and a fine selection of food on offer in the restaurant's, this is one weekend away where the only thing you have to worry about is whose round is it next.
There are two main stages which have pristine lighting and sound that wouldn't be out of place in Las Vegas.
Upon arrival on the site, as my photographer in crime Buckers and myself were checking in the Climax Blues Band were letting the good times roll and getting it right.
Lorraine Crosby certainly has the looks of a rock goddess and was once taken under the wing of Jim Steinman and it was her voice that provided the female vocals on Meat Loaf's number one smash 'I'd Would Do Anything For Love', although unfortunately they used a model in the video. Since then she has been chasing the big time.
Crosby otherwise known as Mrs Loud for obvious reasons has a raunchy voice and played a set of her own material which was pretty good and a few covers including an apt choice of AC/DC's 'It's A Long Way To The Top (If You Wanna Rock 'N Roll), but with covers in her set, this was chick in a basket rock at it's best. To be taken more seriously, she needs to focus more on original material (But, she won't do that.)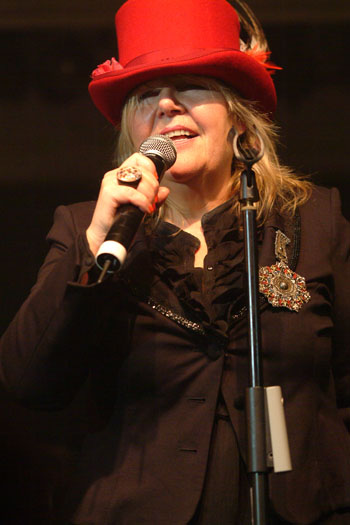 Connie Lush & the Blue Shouters were the darlings of the Centre Stage. Connie Lush is another female artist with a very strong voice and you couldn't help but warm yourself to her jovial friendly stage manner. She must have had many a man's heart racing during the sensual 'Love Me Like A Man'.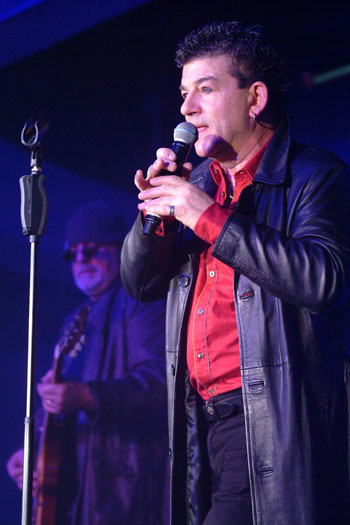 With the most misleading name in rock The Heavy Metal Kids were a joy to behold. Now with John Altman on vocals (Yes he of Nasty Nick fame of Eastenders), the pre punk antics of the Kids was compulsive. Judging by earlier reports, Altman now has a lot more confidence on stage. During 'The Cops Are Coming' Altman was running around the stage as if being chased by a Keystone Cop.
With such great tracks as 'She's No Angel' and 'Delirious' it was easy to see why the band grew to be such a big influence on Hanoi Rocks singer Michael Monroe who later covered the raucous rockers and with new song 'Uncontrollable' being one of the best songs the band has ever written the future bodes well for the grown up Heavy Metal Kids.
Some complained to me afterwards that Altman couldn't sing, but neither could original singer Gary Holton. Isn't that exactly what these songs need? A bit of Cockney charm? You'll either get it or you don't. Those with a sense of humour can dig deep into the Kids.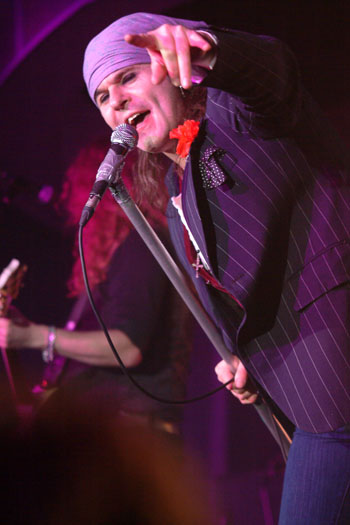 At eleven o'clock it was time for a party. The Quireboys are one of those perfect festival bands who never let you down. Even those who are not familiar with the Quireboys can immediately fall in love with their brand of infectious rock 'n roll.
All the dance floor fillers were there with Spike inviting us all to a 'Sex Party', but I'm sure most of the middle aged audience here this weekend did all that years ago and went to the bar for another drink instead.
Quireboys can take an example from some of the veteran bands here this weekend and realise that they have enough great material to keep them going as a live act for another twenty years yet.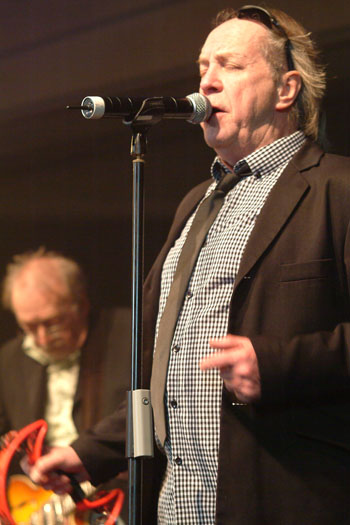 The Pretty Things were the original bad boys of rock 'n roll, singing songs about L.S.D when Pink Floyd were still wearing their schoolboy shorts.
Back in the mid-sixties the Pretty Things were giving the Rolling Stones a good run for their money. In fact guitarist Dick Taylor was originally a Stone himself.
Singer Phil May still has that deep voice that demands attention. Whilst the Stones have moved on with the times, The Pretty Things gave a masterclass in hard edged blues showing the best of British beat sound had to offer. A band to be cherished.
The music still went on into the early hours in the Jaks Bar, but as I was suffering from the man flu it was time for a little nightcap before retiring into my room and putting the heating on full blast to give my symptoms a good roasting. It's gonna be a long weekend ahead.

Review by Mark Taylor
Photos by Noel Buckley
---