Just witnessed your best live gig?.. send us a review!
ROCK & BLUES FESTIVAL
Skegness, 28-30 January 2011
Photos by Noel Buckley
Day 2: Saturday 29 January 2011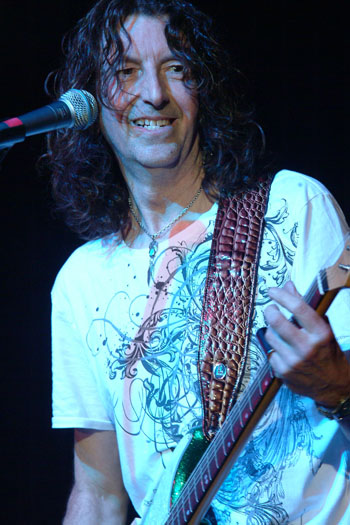 Waking up feeling like death warmed up it was great to get a full English breakfast inside me before retiring back to the sofa in our chalet and channel hop with the satelite TV and settling on watching a repeat of The Sweeney.
A classic cops and robber's programme made when the bad guys got nicked and the police nicked ya with no questions asked. Watching Dennis Waterman in action, I felt that's who Buckers must of modelled himself on when the programme was first shown, but that programme was made a very long time ago.
Gwyn Ashton Two Man Blues Army are out to push the boundaries. I've heard of power trio's before, but a power duo! Gwyn Ashton on guitar and 'Killer' Kev Hickman on the drums make a unique sound almost harking to the days of garage rock with an indie sound if Hendrix was born in the wrong year.
An interesting combination that needs to be admired but you don't quite get that killer punch you're looking for without an entire band but one that lets the two guys roam free. All the power to them.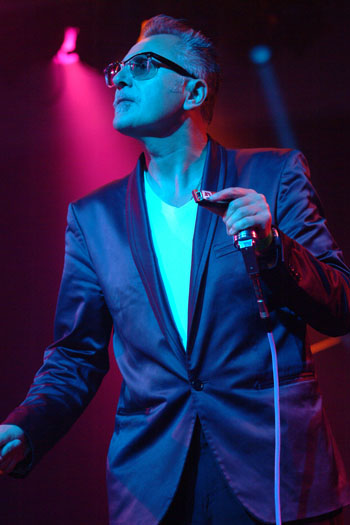 If Bill Haley & The Comets were still around they'll most probably sound like Paul Lamb & The Kingsnakes who were rocking around the mid-afternoon clock. Bringing some razzle dazzle with their feel good loose fitting harmonica swinging blues rock got those jiving down the front. Playing some great tracks from their new album 'Mind Games'. It was another name jotted down in my little black book marked 'Must see again.'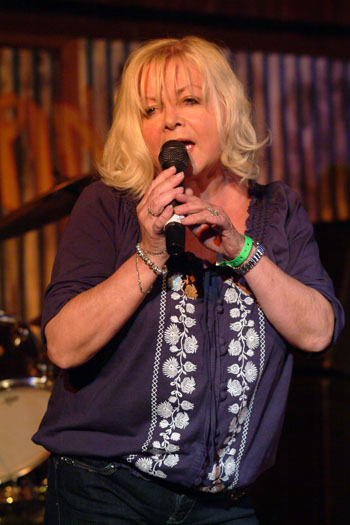 Sneaking off to the Jaks Bar for an afternoon jam session I was lucky to see Maggie Ross whose mix of soulful blues went down well with the crowd.
With a sensible break in the afternoon allowing everyone to get stocked up in the restaurants, it also allowed us an excuse to catch some of the FA Cup action watching the Saints get unlucky against the Red Devils.
For those who want a taste of Rory Gallagher then Taste was the band to check out. These days featuring drummer John Wilson who played in Rory's band between 1968-70. Wilson was centre stage and gave an erratic powerful punch. Highlights were the stomping new take on 'Morning Sun'.
It was another drummer that was getting me excited at the propect of seeing for the very first time. A man who started in a band who made their debut at Butlins in Minehead back in the early sixties. The hair was shorter but the trade mark moustache was still there.
John Coghlan's Quo kept the boogie die hard's happy. It's been over 25 years since John Coghlan occupied the drumstool in Status Quo and it was great seeing back in action. Enlisting the help of Reading boogie rockers Predatur, singer Baz even has a voice similar to Rossi.
The classic hits you'll expect to hear were there ,but there were also some surprises namely in '(April) Spring, Summer....'and 'All The Reasons' , a song that Quo never performed live kept the purists happy. Coughlan later came to the mic and said ''I'm still doing it at 64, what else do you do?'' wise words indeed.
When I see the current Quo there's something always missing namely Lancaster and Coghlan, and it's the same with watching Coghlan's Quo, c'mon guys , stop being daft and why don't you do it together again and again? 'Coz I la-la-la liked it.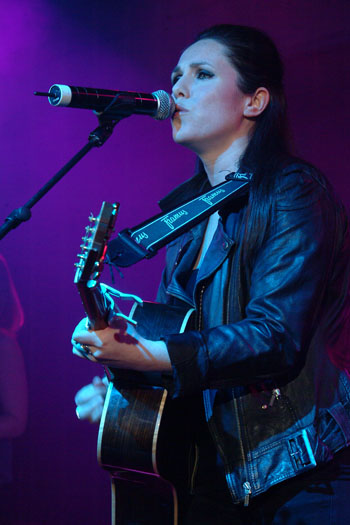 Now you could be forgiven for thinking that Sandi Thom is just a one hit wonder who got herself on the box with 'I Wish I Was A Punk Rocker (With Flowers In My Hair)', but you can forget all that. There is a whole lot more to our Miss Thom.
Since meeting a certain Mr Bonamassa, Sandi Thom plays some mean blues and when she had her acoustic strapped around her she was playing music that could've came straight out of Nashville.
She showed off her true credentials with a sublime 'House Of The Risng Sun'. She may have wanted to be a punk rocker but Sandi Thom is a blues purest at heart. Keep smiling girl.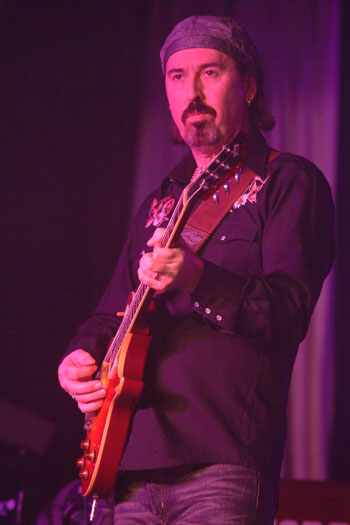 'Ere's a band for ya! The Monsters Of British Rock are a band that feature former Whitesnake journeymen guitarist Micky Moody and bassist Neil Murray. With a stellar cast in support, and with Harry H James supplying thunderous drumming, former Wishbone Ash guitarist Laurie Wisefield and the superb vocals of Chris Ousey.
For Whitesnake commandos who hark for the early days this is the nearest you're ever gonna get. 'Ready An' Willing' featured a funky work out on the keys from Michael Bramwell which included a perfect duel between the slide of Moody and the perfection of Wisefield.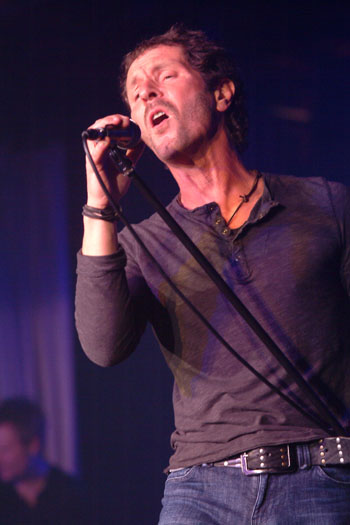 Vocalist Chris Ousey doesn't even break into a sweat handling the vocals of these early Whitesnake classics with ease but can also do Thunder's 'On My Radio' with aplomb. No mean feat when you consider what a great singer Danny Bowes was too.
Monsters Of British Rock are a class act who had me begging for more, I could've watched them all night.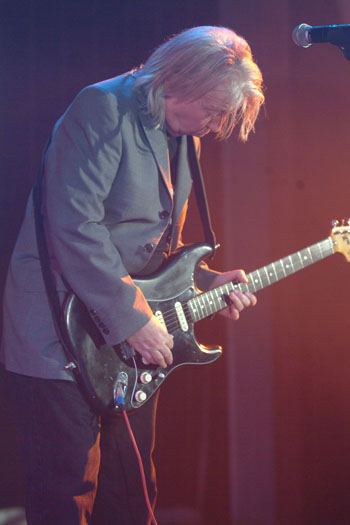 Between them Herby Goins & The Norman Beaker Band have played with some of the biggest names in blues including Alexis Corner, Chuck Berry and Chris Farlowe amongst countless others. Together they played some of the coolest music you'll expect to hear on a late night cab ride around old town New York. The applause for this great band was as big as Herby's grin. Excellent stuff.
With the action all over on the main stages many crammed into the Jaks Bar to see Larry Miller rock the joint. If you were lucky to squeeze yourself in, you were even more lucky if you managed to find a way to the bar. Miller is making a big name for himself and should have been on the main stage.
He looks like Malcolm Young of AC/DC and runs around the stage like Angus and plays the hell out his six string just like Rory Gallagher.
This was a high energetic performance from Miller who ensured that everyone stayed exactly put in the bar until gone half two in the morning. This is a man who really does have some unfinished business and business is booming.
After twelve hours of rocking boozing and bluesing it was time for just another nightcap.

Review by Mark Taylor
Photos by Noel Buckley
---
Larry Miller Feature and Interview