Just witnessed your best live gig?.. send us a review!

Did you know that we play melodic rock in a three hour sequence, Mon-Fri on our radio channel? (10:00-13:00 BST - GMT+1)
More information
MELODIC ROCK FEST 2
The Roadhouse, Elgin, Illinois 30 April-2 May 2010
Day 3 - 2 May 2010
No chance of a lie-in to recuperate from the previous day's exertions, for non-musical reasons. I'd missed my team Crystal Palace's crucial last day relegation decider at Sheffield Wednesday to be at the festival, but after a sleepless night, was staring at the BBC updates on the hotel computer throughout the second half. Fortunately we squeezed the draw we needed, but I needed a stiff drink afterwards - except it was still not even 9am!
Finally heading to the festival on the hotel shuttle, I ended up sharing a ride and music chat with two Americans from Cleveland, an Aussie, a Brazilian, and a Japanese, and pondered the power of music to bring different cultures together.
Once inside, another local act Strikeforce opened proceedings and musically were very competent: Judas Priest was their primary influence, and they also had a good stab at covering Detroit Rock City and Immigrant Song.
Having seen Bombay Black at Firefest before, and needing food with a long day ahead and no other breaks in sight, I reluctantly ducked out of their set and my next band was 7th Heaven.
Looking disturbingly like a boy band, they nevertheless churned out some enjoyable songs with a pop rock edge, before devoting the second half of the set to the act that makes them one of Chicago's most popular club bands, a medley of over 30 songs done in 'don't bore us, get to the chorus' style.
Did you know that we play melodic rock in a three hour sequence, Mon-Fri on our radio channel? (10:00-13:00 BST - GMT+1)
More information
First of the name bands on a busy afternoon were Crown of Thorns. Incredibly, having been together over 15 years and been UK regulars in their earlier days, this was the American quartet's first ever appearance on home soil.
In the circumstances it was not surprising that they focused heavily on the classics from their debut album including Are You Ready, Hike it Up, Standin on the Corner for Ya, The Healer, and encore Dying for Your Love.
Being one of the best live performers around, they went down extremely well, though I confess to enjoying it less than previous CoT gigs for a number of reasons. The setlist was very one-sided with only the title song of their latest Faith album represented among the six post-debut albums, an unnecessary cover of Rock'n'Roll, and Jean Beauvoir's voice seemed buried too low in the mix.
Together with Danger Danger's Rob Marcello, they should also be commended for entering into the spirit of the event, hanging out with fans and supporting other bands all weekend long.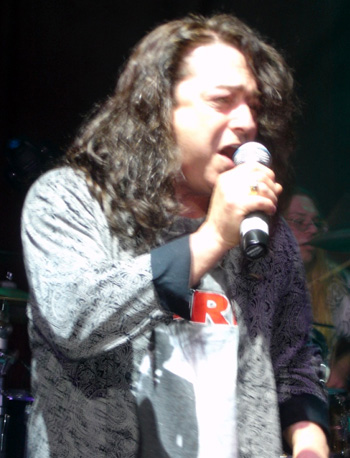 Next came one of the few disappointments of the event. Ex-The Storm and Two Fires singer Kevin Chalfant, one of AOR's cult legends, was next up but only as part of a travelling cast called Voices of Rock Radio.
So we got veteran former Ted Nugent sideman Derek St Holmes doing three songs including an endless Strangelehold and Cat Scratch Fever, and a member of 80's US pop band The Romantics then did three, including What I Like About You and Talking in Your Sleep, which rather sadly I recognised as a UK hit for Bucks Fizz. Neither artist was likely to be of primary interest to this crowd.
Jimi Jamison then came on for an appetising I Can't Hold Back, and only then did Kevin take to the stage. He did just four songs, opening with the Storm's You Keep Me Waiting, then two relative obscurities in Megaforce from his 707 days and the title track from his 97 solo album Running with the Wind.
However I was frustrated by the fact that the backing band, with a trio of musicians including an intrusive acoustic guitarist who with their long hair and glasses looked the reincarnation of Steely Dan's Walter Becker, felt very generic and with too laid back a style that stripped the guts out of the songs. At least Kevin ended on a high note as the crowd joined a singalong to the Storm's best known song, I've Got A Lot to Learn About Love.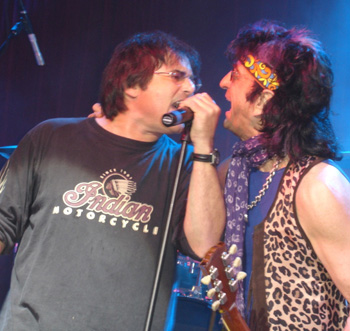 With the same band in place, Jimi Jamison returned for a 40 minute set. In glasses and the same sweatshirt he was wearing the night before, he cut a very casual figure, but Jim Peterik provided a complete contrast.
Coming on stage and rocking out even when his guitar was not initially plugged in, he had again raided the fancy dress shop and looked like a rock version of Fred Flintstone!
We had a mix of three songs from Jimi's Crossroads Moment album, co-written with Jim with the title track coming over best, and some Survivor classics. I was pleased that Jimi seemed rejuvenated as he gave a singing masterclass on The Search is Over.
High on You was another highlight, but the best moment of all was hearing him do Survivor's rarely played, and in this case appropriate, It's the Singer Not the Song. Inevitably Eye of the Tiger again brought an all too short set to an end- roll on his Firefest appearance!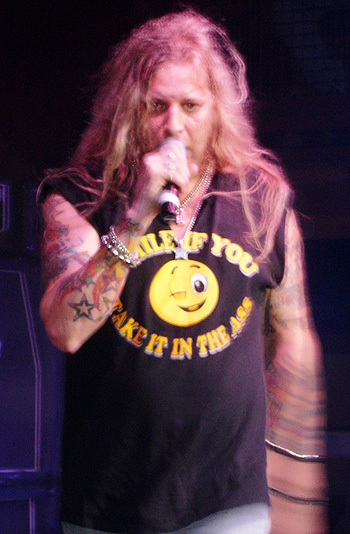 Busy boy of the weekend was Ted Poley who had recovered from any hangover to play a solo set, backed by a different cast of musicians, but still full of his infectious, larger than life joie de vivre.
The set revisited all phases of his career, including a couple from his mid 90's Bone Machine days such as Missing You, with more recent solo stuff and Shot of Love and Afraid of Love from Danger Danger's Cockroach album.
I had forgotten just how good an AOR song Feels Like Love from DD's debut was, and Rob Marcello and various others joined in an encore of Stone in Love, which took an unexpected twist when Ted (who it is easy to forget began life as drummer in Prophet) saw out the song pounding the skins.
Did you know that we play melodic rock in a three hour sequence, Mon-Fri on our radio channel? (10:00-13:00 BST - GMT+1)
More information
When W.E.T. had to pull out of the original line-up due to Jeff Scott Soto's commitments, Trixter were drafted in to fill the second slot.
Teenage hopefuls at the tail end of 'hair metal' s heyday, they recently reformed and are now short-haired but still youthful and full of vitality- guitarist Steve Brown was jumping all over the place while the solid figure of Mark Scott was a real powerhouse of a drummer.
The result was an energetic show, which fairly flew by, of songs from their two albums, with a mixture of Poison-lite sleaze (Line of Fire, Heart of Steel, Rocking Horse) leavened with some quality ballads (One in a Million, Surrender) that reminded me of Firehouse- and finishing with their best known, Give it to me Good. It was my first time seeing them but hopefully not the last.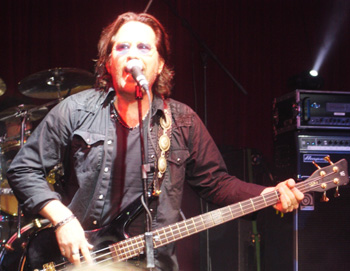 In contrast I felt a bit of a cheat watching Winger - many of the natives had been waiting years for the show, and yet I had seen them only a month before in London on their UK tour already covered at GRTR! Towers.
The set was exactly the same - right down to Kip Winger's intros between songs - with the only difference that, when he was seated at his keyboard for the more progressive numbers such as Rainbow in the Rose and Headed for a Heartbreak, they went without a bass player. Kip also coped with some technical failures with equanimity.
They were surprisingly heavy for the bulk of the set (which featured three songs from newie Karma in Pull Me Under, Stone Cold Killer and Deal with the Devil, one from Winger IV and Blind Revolution Mad and Down Incognito from hidden classic Pull).
Reb Beach can shred with the best of them, John Roth is almost as capable a guitarist and even Easy Come Easy Go had an uncompromising feel to it that would have shocked Beavis and Butthead's pal Stewart.
The 'hits' were saved till quite late in the set, with Can't Get Enough and the un-PC Seventeen, followed by encores of Miles Away, still one of the best power ballads of the era, and a crunchy Madelaine. To bring the night to a close, Terry Brock was brought on stage to sing on their cover of Helter Skelter.
Sadly, with only around 500 present to see it, Andrew McNeice fell well short of breaking even, but, whether local fans starved of these bands or us long distance travellers, those of us present had a memorable three days and owe him huge thanks for making it happen.
If there was an MRF 3, to use an Americanism, I would be there in a heartbeat.

Review and photos by Andy Nathan