Just witnessed your best live gig?.. send us a review!

Did you know that we play melodic rock in a three hour sequence, Mon-Fri on our radio channel? (10:00-13:00 BST - GMT+1)
More information
MELODIC ROCK FEST 2
The Roadhouse, Elgin, Illinois 30 April-2 May 2010
Day 2 - 1 May 2010
After a healthy breakfast (by American standards) and a CD buying session from my friend Marty who had set up shop in his own hotel room, it was back to the Roadhouse at midday for a long day ahead.
Unfortunately mine got off to a false start, owing to a waitress that defined the term dumb blonde and a blue cheese burger that twice failed to arrive.
I completely missed local openers Far Cry, doubly annoying as I heard excellent feedback both on the day and later on the message boards, and was finishing off my meal while Talon were on.
Having seen them a couple of times at Firefest, and even made a cameo appearance in their 'Baby Jane' video, I have a lot of time for the Californian rockers and they delivered a typically hard driving and enthusiastic performance with their new singer, who reminded me a bit of Tesla's Jeff Keith, fitting in comfortably. Highlights included What about me and Paradise, plus a very authentic cover of Jefferson Starship's Jane.
Next up were Rock Sugar, who since appearing as Loud and Clear at Firefest in 2008, have re-invented themselves and gained far more fortune and fame by doing 'mash ups' of classic eighties rock songs and have even been booked for Download.
I loved their original work and have mixed feelings that they are riding the current wave of nostalgia for eighties cheese, but they were nevertheless very entertaining, and clever in the way they switched in and out of songs- with some strange couplings like You Shook me All Night Long and Madonna's Like a Prayer.
Singer Jess Harnell was a larger than life character, and yet when he left the rest of the band to perform a mash up of Working for the Weekend and Livin' on a Prayer, it proved the best of the set, before they closed with a triple mash up of Bohemian Rhapsody, We Will Rock You and Kickstart my Heart.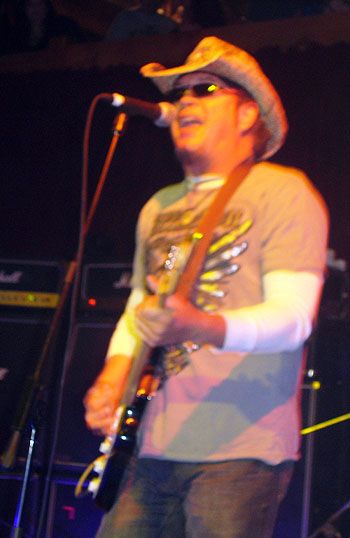 Backed by Valentine, Terry Brock provided a rather more sedate contrast. Hiding behind a cowboy hat and shades, he nevertheless not only showed his singing quality but was a dryly humorous frontman with his southern drawl.
Perhaps warming up for their Firefest reunion, the set was peppered with no less than five tracks from his Strangeways days, with Only a Fool the stand out closely followed by an epic Love Lies Dying, as well as a number of songs from his upcoming album, which did not make an immediate impact on me, and one from The Sign project and from his Back to Eden album.
Valentine, particularly talented guitarist Adam Holland, proved a perfect match with their tasteful playing and an American woman next to me near the front exploded in delight when he finished with one of their songs, Soul Salvation.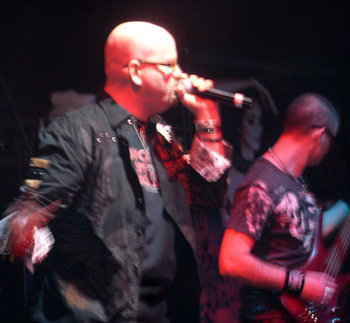 Eden's Curse, led by shaven headed and Halford-esque singer Michael Eden presented a heavier contrast to most of the bands of the weekend, with an uncompromising sound almost verging on power metal - yet songs like Just Like Judas, Eyes of the World and After the Love is Gone also had massive melodic hooks.
There also seemed to be more locals who had come specifically to see them than virtually any other band all weekend. However after about 40 minutes, and with one similar song beginning to merge into another, with several hours still to go, I reluctantly popped to the bar for a food break.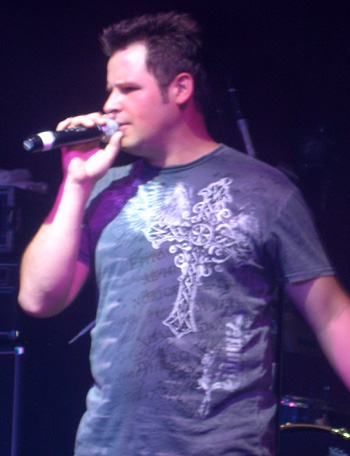 Pride of Lions were perhaps the band I was most looking forward to, and they did not disappoint with one of the classiest sets of the weekend. This was once I had got over the bizarre tri-cornered hat, headband and pirate garb of ex-Survivor great Jim Peterik, who seemed to be suffering a midlife crisis.
But I was drooling over a magnificent opening trio from their debut album of It's Criminal, Sound of Home and Gone - with Jim's melodramatic songwriting and the soaring vocals of singer Toby Hitchcock, they epitomise great AOR.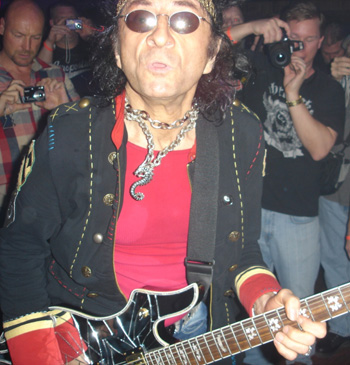 Talking of which, Jim told the stories behind Survivor classics I Can't Hold Back and mega-ballad The Search is Over, which Toby did full justice to, while Music and Me - with lyrics everyone there could relate to - was another highlight and people's jaws dropped when they played the Survivor obscurity Oceans.
Then Jimi Jamison appeared to huge cheers to sing the 'forgotten' Rocky song Burning Heart, before Jim played an extended guitar intro and waded deep into the crowd to rock out with them to Eye of the Tiger. Cheesy, and yet a memorable moment.
Different in style, Danger Danger matched the impact of Pride of Lions with their normal fun-filled show - they never need an excuse to party, but bassist Bruno Ravel's birthday made for even more of a raucous, alcohol-fuelled atmosphere on stage than usual.
With Ted Poley his usual larger than life self, and also diving into the crowd, and Rob Marcello a slick guitarist, the singalong classics from the first two albums came thick and fas t- Boys Will be Boys, Monkey Business, Beat the Bullet, Don't Blame It On Love and others.
Did you know that we play melodic rock in a three hour sequence, Mon-Fri on our radio channel? (10:00-13:00 BST - GMT+1)
More information
But a pleasant surprise was how well the new songs from last year's excellent Revolve album went down - fans were even chanting for the Journey-esque Hearts on the Highway and got their wish, while That's What I'm Talking about is a worthy addition to their collection of anthems.
There was the odd more reflective moment with Under the Gun and I Still Think About You, before a set that was over all too fast closed with Bang Bang, Crazy Nites and another impressive newie, Keep On Keeping On.
There was a danger (excuse the pun) that they would run out of time and not play their most famous song, but thankfully there was still time for Naughty Naughty to bring the set to a suitably riotous conclusion.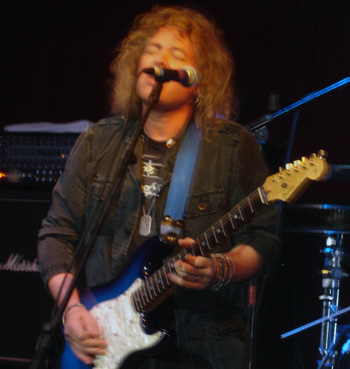 Headliners Y & T seemed to have attracted substantial numbers specifically to see them and did not disappoint from the moment they opened with their usual call to battle in Open Fire, followed by Lipstick and Leather.
Dave Meniketti always sings and plays guitar with absolute commitment and energy, and John Nyman, Phil Kennemore and Mike Vanderhule are a powerful and well-drilled unit honed by constant touring.
Few surprises, but the usual Y&T classics were all present – Dirty Girl turned into a bluesy workout with solos from Dave and John, the riff-tastic Mean Streak, Hurricane and later in the set Black Tiger, and the guitar epic I Believe in You.
1987's Contagious was also given an airing with the gloriously dumb title track which had me and others punching the air, and Eyes of a Stanger, while two songs were premiered form the new Facemelter album - Shine On was run of the mill, but I'm Coming Home an enjoyable romp.
However, after Summertime Girls and with one eye on a curfew getting ever closer, the gig lost all momentum with a guitar instrumental, drum solo, and Phil's usual crowd baiting before he took the mike for Squeeze.
Thankfully, Forever closed the set to get everyone going, and - unlike past shows of theirs I saw at the old Astoria 2 in London- they were allowed to play past the curfew with a three song encore.
So we had the bonus of Barroom Boogie, Don't Stop Running- to please large parts of the crowd who were seemingly spoon fed on 84's In Rock We Trust album and kept requesting it, and - of course - their best known song Rescue Me.
It was nearly 1am and after an hour and three quarter's rocking out to Y&T, a waitress coming on stage to hand out beers for a dollar was an offer too good to refuse - even though they were the egregious Bud Lite. This was proving to be one almighty weekend of the music I love!

Review and photos by Andy Nathan
---