Just witnessed your best live gig?.. send us a review!

Did you know that we play melodic rock in a three hour sequence, Mon-Fri on our radio channel? (10:00-13:00 BST - GMT+1)
More information
MELODIC ROCK FEST 2
The Roadhouse, Elgin, Illinois 30 April-2 May 2010
Day 1 - 30 April 2010
Here's a paradox for you. Melodic rock is always seen as a stereotypically American phenomenon, where the likes of Boston, Journey, Survivor and REO Speedwagon ruled the airwaves in the last seventies and eighties and still sell out arenas to nostalgia-hungry audiences.
But the current scene, underground but still healthy, is much stronger in Europe, with the biggest record label based in Italy and most established festival in England.
Owner of www.melodicrock.com, Aussie Andrew McNeice, has been valiantly battling to bring some of the more cult bands to an American audience.
After holding a festival in Indiana in 2007, headlined by all-star band Scrap Metal, the second Melodicrock fest was an altogether more ambitious event over 2 ½ days in a bar and live music venue about 40 miles west of Chicago. The irony was a good proportion of attenders were from all over the world, including me and a sizeable contingent of Brits already spoiled by the annual Firefest back home.
First up was a Friday night warm-up for VIP ticket holders, giving a chance to meet other like-minded fans, attend an informal meet and greet with a selection of the bands, as well as a special, mainly acoustic show.
As an added bonus, we got to see Eden's Curse doing a full rehearsal as they had been forced by immigration problems into a last minute line up change.
Locals Goodbye Thrill, partially plugged in, got the night off to a good start and Rock Sugar previewed a couple of their mash ups, of which more tomorrow, in acoustic form.
Rob Lamothe, once of Riverdogs, was the first 'name' act and his solo material came highly recommended to me but truth be told his set, including Animals and Beatles covers, was uninspired and directionless, and sent me off for a food break.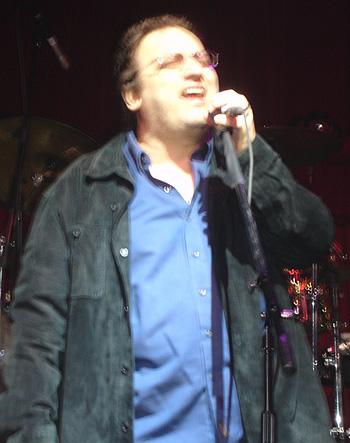 The real coup was a first appearance in over 20 years by Alias, whose 1990 debut was an AOR classic. However, was the portly, bespectacled chap who came on stage and was likened by one wag to football boss Neil Warnock really the same Freddy Curci whose long curly hair and moody pout stared out from inside the CD I had brought to be signed?
Well any doubts we had an imposter were dispelled as his glorious, Brad Delp-esque voice was still largely intact. Backed by original guitarist Steve De Marchi and a keyboard player, and giving Dave Allen a run for his money by telling some humorous anecdotes from his stool, he treated us to all too short set of five songs: the set opened with two Alias classics on Waiting for love and Haunted Heart, and playing the two big US hits, Sheriff's When I'm with You, and More than Words can Say. The set was under half hour but a privilege that may never be repeated.
Did you know that we play melodic rock in a three hour sequence, Mon-Fri on our radio channel? (10:00-13:00 BST - GMT+1)
More information
Headlining were Mecca, whose 2002 album featuring Fergie Frederiksen is a modern day and now hard to find classic, but who had never played live before.
They started a little tentatively, but what they lacked in looks and stagecraft they made up for with a classy set (with some particularly excellent bass playing) which owed much to Toto's rockier moments.
It was great to finally hear songs like Silence of the Heart and Without You , together with several songs - such as the impressive Life's Too Short - from the second album which singer Joe Vana joked was slated for release in 2046.
The only downside was that just as they seemed to be kicking up a gear with a clever instrumental, the set abruptly ended after 45 minutes.
While a variety of members of Alias, Rock Sugar, Danger Danger and Crown of Thorns mingled with fans in the back room upstairs, the Roadhouse's Friday night party crowd were in full swing. But for the rest of us there were two long but rewarding days ahead.

Review and photos by Andy Nathan