Just witnessed your best live gig?.. send us a review!
HAMMERFEST II, Prestatyn, North Wales
11-13 March 2010
Photos by Noel Buckley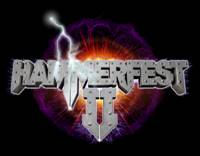 Day 3: Saturday 13 March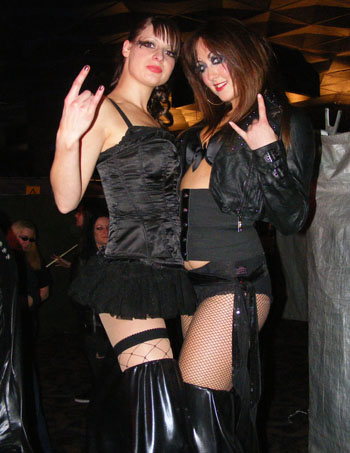 To quote a Suicidal Tendencies track 'Fell Like Sh*t ... Deja Vu' was exactly how I was feeling on the Saturday morning after the night before. A full monty breakfast was needed and there was no time to relax as the action was starting early on this, the last day of the Hammerfest.
Over at the Queen Vic was a fine selection of bands who were all worthy of a place on much bigger stages. The day before Beligerence were handing out flyers for their gig which said ''Come and blow the hangovers away'', and that's exactly what they did with some fine sludgy heavy Sabbathy riffs.
Isolysis from Reading were treading the boards with some fine thrash with a modern sound (Surely a start of NWOBT... New Wave Of British Thrash)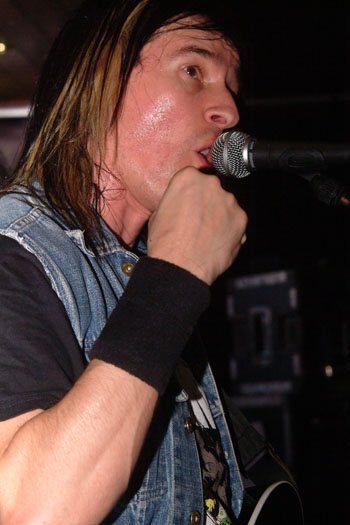 The more I see of The More I See the more I like them. Former Prodigy guitarist Gizz Butt is happy to blend in with his band mates who put on a great thrashy show.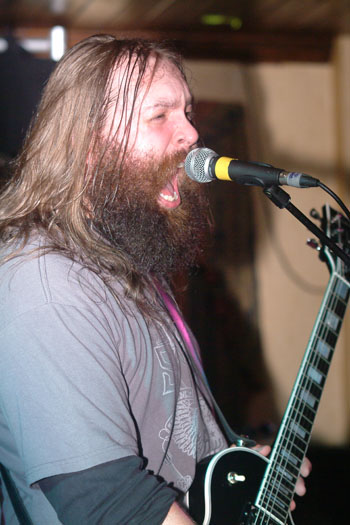 Godsized are a band with some big riffs and booming vocals. This is how Black Stone Cherry would sound if only they got some Jagermeister down there Southern necks.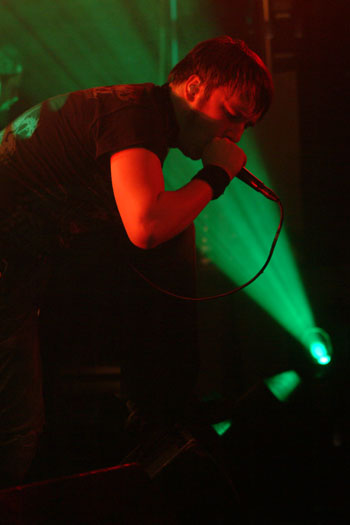 Whilst all this was going on I was pogoing between here and Stage Two to catch a couple of songs from bands that were performing in the adjacent venue. Rise To Remain were some angry young men with some great melodic licks. Singer Austin Dickinson has some big footsteps to follow, but will soon be wearing the same sized boots as his father.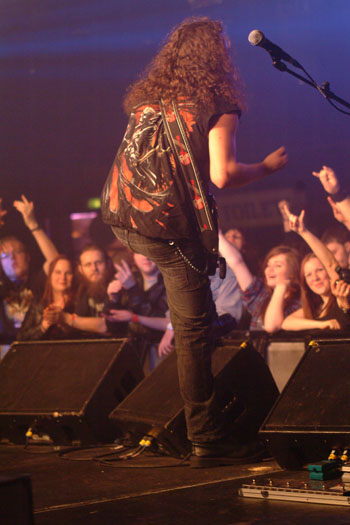 Bringing some old style metal into the new age were Fury UK who have improved immensely since I last saw them getting some great applause.
Things weren't so bright for The Shining who looked a little dull today.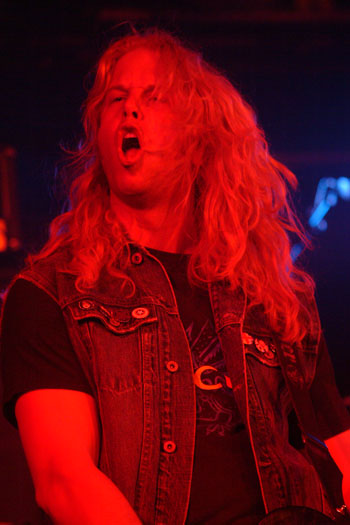 Waving their magic were White Wizzard, a band i was really forward to seeing this weekend. Any band that wants to recreate the glory days of the NWOBHM always gets a big thumbs up from me.
Going 'Over The Top' from the off the band soon found their vinyl groove. Although I didn't hear any immediate classics just yet, but a new song 'Goddess Marches On' was very Maiden-esque in epic proportions, and a surprise cover of Clovenhoof's 'Gates Of Gehenna' scored extra points for me.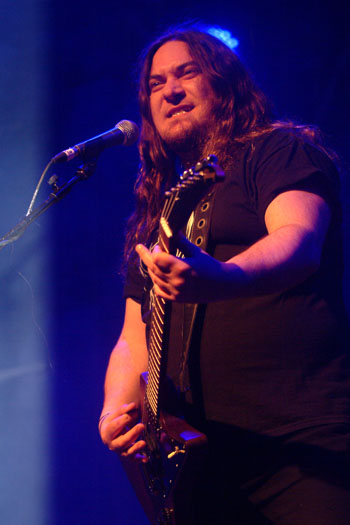 The main stage opened up with Attica Rage, who I think must have moved into Prestatyn as they seem to be on every bill here, but no one is complaining with their heads down no nonsense metal. A surprise cover of Maiden's 'Fear Of The Dark' kept the metal faithful happy.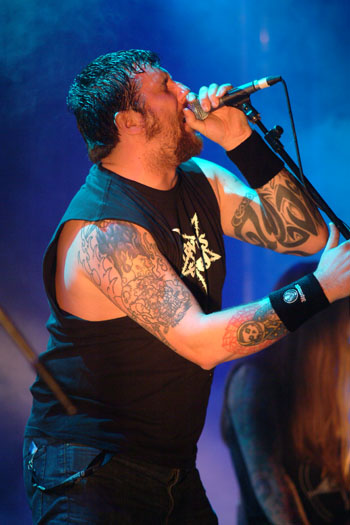 Although on a hiatus from the studio, that doesn't mean that you can keep Orange Goblin away from the stage. No one can deny the delights of a larger than life Ben Ward when he is up there in lights.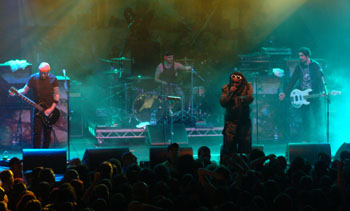 On home soil were Skindred. It's been many years since I last saw frontman Benji Webbe doing his thing with Dub War, but he and his band put in one of the most entertaining performances of all weekend.
The only band to get the crowd to - dare I say it? - DANCE. ''How much fun are you missing?'' asks Benji to those at the back in the cheap seats. Skindred are the most perfect headliners for the forthcoming HRH Roadtrip gig later this year in Ibiza.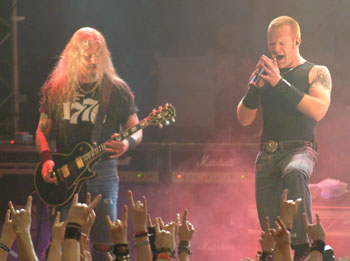 Iced Earth have been going for some twenty years now and have a big catalogue of tracks behind them. Guitarist Jon Schaffer steers this ship and it's a welcome return for singer Matt Barlow whose screams were sometimes low in the mix.
Still not quite premiership material but 'Pure Evil' was exactly what it said on the tin and 'Dracula' is a great heavy power ballad. The metal legions were happy enough.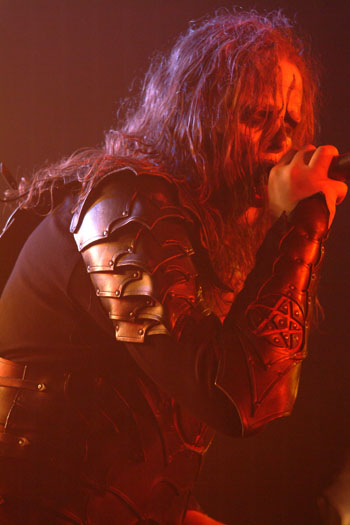 Over at Stage Two Dark Funeral were showing the pretenders how it's done with some text book black metal.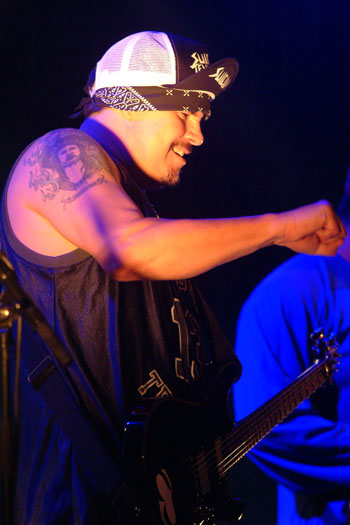 Suicidal Tendencies from Vienna Beach kept the crowd surfers happy. Mike Muir still has his trade mark bandana just aboving his eyes acting like a man have his age.
The paranoaic 'War Inside My Head' was sublime. People forget how influential Suicidal were in the rap funk metal scene and often overlooked as just a thrash band. Wearing long shorts long before Anthrax got their Bermuda's out.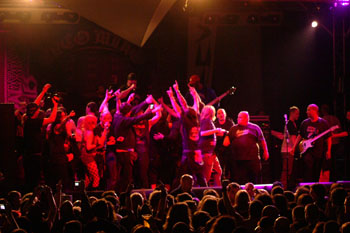 At the end of the set with cries of 'ST-ST-ST'' Mike Muir invited the institutionalized ones to join him on stage. If security thought they had a hard time the day before with 5FDP, they certainly wasn't prepared for this as about 75 fans got up on stage and jammed .You couldn't bring them down. A glorious sight.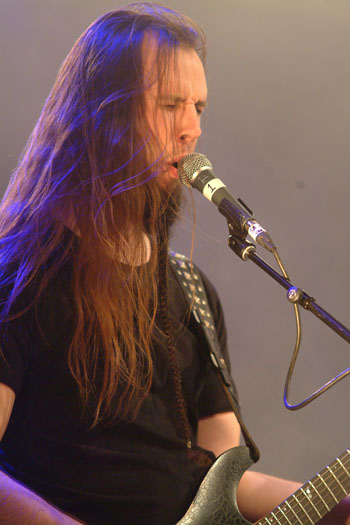 Leaving the place like a battlefield could only be the perfect setting for Sabaton, who at One in the morning had the duty of honour of closing this event. The Swedish rockers are still relatively unknown in this country but it's amazing how many classic tracks this band already have under their bulletbelts. 'Cliffs Of Gallipoli', '40:1', 'Attero Dominato' gave us a great sing along history lesson in stories of war.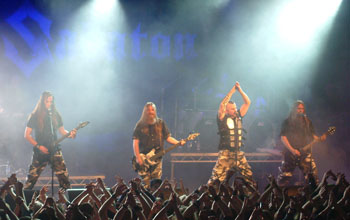 Through the gates of hell as they made their way to heaven Sabaton took no prisoners and everyone saluted the high command. Best band of the weekend ending the Hammerfest on a high.
The Hammerfest II was a great success providing great value for the chance of seeing so many bands in such a small proximity. Long may it continue. See ya at Hard Rock Hell, boozers...


Review by Mark Taylor
Photos by Noel Buckley
---