PROCOL HARUM Reissues Salvo/Union Square (2009)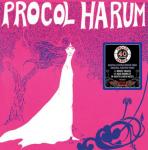 Now this is what I call a major reissue campaign! Salvo have put out the first seven Procol Harum album, all in gatefold card sleeves, each with a booklet, extensive sleevenotes and bonus tracks.
The eponymous debut was released in 1967, and saw the band mix progressive rock with blues, pop, psychedelic music and orchestration. Vocalist Gary Brooker led with his piano and was bolstered by organ, bass, guitar and drums. The guitarist was a young Robin Trower who at times is allowed to shine through. It was a good sound that didn't sell as well as it should have done. Maybe it was considered too much of a mix at the time?
Amongst the 11 bonus tracks are various single and stereo versions, and of course the single 'A Whiter Shade Of Pale', the track that nobody understands. Although it had a solid rhythm and at times loud vocals, it is perhaps more organ led and orchestrated than large chunks of the main album. ****
1968's Shine On Brightly kept the sound going strong, with Brooker's melancholy vocals/piano, Reid's dark lyrics and Trower's bluesy guitar all key points. The mix of piano and organ, while still giving space to the vocals and guitar, would prove novel and eventually popular. Another 11 bonus cuts make it a full set. ****
The third album, A Salty Dog, would become one of the band's biggest sellers and best known. And well deservedly too. A bigger sound with orchestration and cohesive production, there's some decent rock on here too. Imagine the Beatles gone hard rock!! ****
The first major line-up change in time for 1970's Home, with Chris Copping now covering both bass and organ, the opening track 'Whisky Train' the hardest rawest rock track the band had produced yet, with some great riffage from Trower. Elsewhere the symphonic rock continued to rule, with some uptempo and catchy numbers. ****
1971's Broken Barricades followed in similar vein, with dark rock edges to the symphonic rock, and some great piano/guitar interplay. ****
By 1972 it was time for a live album Live with the Edmonton Symphony Orchestra, so in came Alan Cartwright on bass with Copping sticking to the organ, and new guitarist Dave Ball replacing Robin Trower. It was also time for some outrageous extravagance, playing with an orchestra and very popular it proved too.
Opening track 'Conquistador' is a complete belter, and 'A Salty Dog' (orchestrated on record too) comes over well. Three bonus cuts make for a good live set. ****
For 1973's Grand Hotel, Mick Grabham came in on guitar, and although there are some top Harum moments, the piano, vocals and guitar all standing out, it wasn't a good a set. Individually the tracks are solid, but the album doesn't flow. ****
Some underrated rock music, and superb packaging. This is a lesson to many in a proper reissue campaign.
***½
Review by Joe Geesin
---
| | |
| --- | --- |
| | Print this page in printer-friendly format |
| | Tell a friend about this page |