Just witnessed your best live gig?..send us a review!
JETHRO TULL
Philharmonic Hall, Liverpool 13 May 2008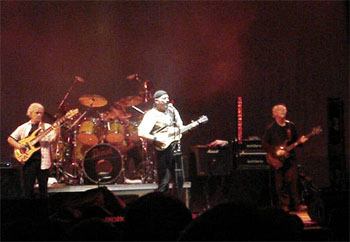 Pete Whalley commented in a previous review that there was the distinct aroma of involuntary gases during the Tull encore. More than one observer tonight noted a pungent smell of barbeque in the intermission. Just where did that come from?

A by-product of Tull's target demographic maybe, but gaseous emissions aside this 40th Anniversary bash was somewhat lack-lustre. Where was the giant balloon and the party poppers? Only GRTR! blogger and special guest Anna Phoebe (looking like she'd just fallen off a lucky man's Christmas tree) added a frisson to proceedings. Anna only appeared on two Tull tunes (Bouree and the encore, Locomotive Breath) and her solo showcases seemed somewhat out of place.
Photo: Lee Millward/GRTR!
We were promised some special guests on this tour but there was no sign tonight of some of Ian Anderson's former henchmen: Messrs Abrahams, Bunker and Cornick, even John Evan. Instead they were recalled through an impressive movie-ola backdrop, the flowing beards and hair contrasting starkly with what we saw on stage.

The band showcased their newly reissued debut album 'This Was' and this really set the tone for the evening with a distinct emphasis on Tull pre-1973. This focus on the band's early period is hard to fathom: wasn't this supposed to be a celebration of the band's 40 years, rather than their first half decade? Only 'Heavy Horses' and 'Farm On The Freeway' pushed the set nearer the twenty-first century.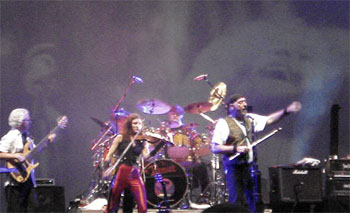 There is nothing wrong with the early Tull catalogue – here played as ever with reverence, gusto and occasionally slightly rearranged or extended (for example, 'We Used To Know', 'Dharma For One') – but a lot of it does sound a little dated. And, in truth, there is not a lot to interest a younger generation save perhaps for Anderson's tireless showmanship and Martin Barre's classy guitar figures.

It is inevitable that, in a 40 year career, albums will get overlooked, great songs missed out, but – sorry to be the party pooper – this concert just didn't do justice to the band's legacy. Here's to the big 5-0 perhaps? Anderson joked about the Horlicks mugs on the merchandise stall and, next time, the incontinence pads. Some own-brand air-freshener, for the set-list if not the audience, might be a better bet.
---
Review by
David Randall
Alternate view
---
| | |
| --- | --- |
| | Print this page in printer-friendly format |
| | Tell a friend about this page |