JETHRO TULL This Was EMI (2008)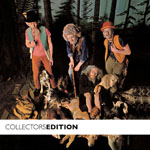 What do you give for a 40th anniversary present to the Tull fan who has everything? The 20th anniversary produced a five-LP (3-CD) boxed set, five years later came a handsome cigar box set, individual albums have been re-issued in new or remastered versions, themed sets have appeared such as the Christmas and Acoustic albums.
This year marks Tull's 40th birthday and band and label have chosen to revisit their debut album released in 1968.
'This Was' set the basic blues to folk rock blueprint that they've been reinventing ever since. It demonstrates the band's enduring musicality - and that many elements we might term the Tull signature sound were in place at the start.
Anderson's Roland Kirk-inspired huffing and puffing on the flute has always been a highlight, and although the band's rhythm section has been in a constant state of flux (along with their keyboard players) Tull's music has always emphasised the rhythmic elements whether it is folk-rock inspired or their later foray into synthesisers and mainstream metal.
It was only after Martin Barre had arrived for 1969's Stand Up that the band edged down the prog road, although Ian Anderson hotly denies that they ever produced concept albums.
'This Was' is predominately blues-based fare (including a couple of covers) and 'Song For Jeffrey' - a staple in their live act in the seventies - is the most representative of the later band, with Anderson's distinctive vocals and lyrics adding another characteristic twist.
This new package, in truth, adds only a little to Tull's rich catalogue. The original mono tracks are included on CD for the first time, there's a new stereo mix, there are previously unreleased John Peel BBC sessions from 1968, but the bonus tracks have already appeared on the 1988 box set. And the album was remastered in 2001 when three of the four bonus tracks were also included.
It's the complete BBC sessions that might merit a release in the future, especially as they've have been sprinkled thinly across the 1988 box set and in separate in-concert releases.
The forthcoming tour will feature special guests from all periods of Tull's career and in this context 'This Was' can also be viewed as a celebration of the band's top-class musicianship that has made them one of our most endearing, and enduring ensembles.
***½
Review by David Randall
---