JETHRO TULL
Philharmonic Hall, Liverpool 13 May 2008
Most people are looking to retire after 40 years at the 'day job'. But not Ian Anderson, for whom it continues to be 'business as usual'.

Unbelievably, 40 years have elapsed since 1968 saw the release of Tull's debut album This Was. And naturally, to celebrate we have the 40th Anniversary expanded and remastered edition (see reviews), and true to the current vogue, a commemorative 40th Anniversary tour - An Evening With Jethro Tull.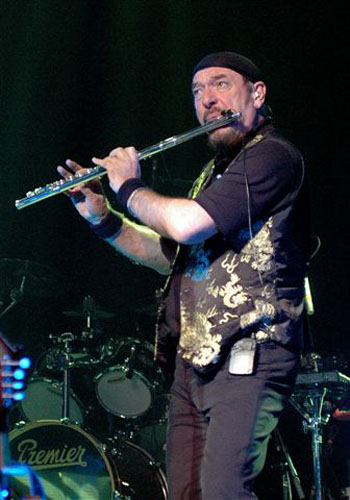 2006's Aqualung Anniversary tour found Anderson rejuvenated by the stage presence of Lucia Micarelli on violin, an experiment successfully perpetuated on last year's 'acoustic' tour with the addition of Anna Phoebe.

But, of course, This Was was primarily a blues-rock album with a line up that lasted less than a year - Anderson, Mick Abrahams, Glen Cornick and Clive Bunker. Abrahams left not long after the album was released to form Blodwyn Pig, and for a few weeks Tony Iommi filled in until Martin Barre successfully auditioned for the post of what was to become the 'permanent' lead guitarist slot.

Barre apart, the Tull line up has been a never-ending carousel of 26 players, so the question on everyone's lips pre gig was just who would the rumoured 'special guests' include? A reuniting of the original line up perhaps?

Sadly, no such luck - the guest artist supporting the current line up of Ian Anderson, Martin Barre, Doanne Perry, David Goodier and John O'Hara, turning out to be none other than Anna Phoebe! So basically, the same line up as for last year's Acoustic tour.

But, the set list this time around was very different. Set against a backdrop of archive footage and news cuttings, Tull played a predominantly rock based set focused almost exclusively on the band's 1st 4 years.
Naturally we got the obligatory Thick As A Brick excerpt, but that aside the only post 1971 material was the title track from 1978's Heavy Horses, and a searing Farm On The Freeway from 1987's Crest Of A Knave.

Befitting of the 40th anniversary of This Was, that album's material got the most coverage (My Sunday Feeling, Serenade To A Cuckoo, A Song For Jeffrey and Dharma For One) and while the band was in fine fettle, the same could not be said for Ian Anderson's vocals.
While his flute and harmonica playing hit the mark (as always) the truth is that he now struggles (and often fails) to hits the notes of his youth. Not that those who had come to pay homage seemed to care. But you got the impression that the set list had been chosen carefully to limit the ravages on the vocal chords.

So the evening was very much one of déjà vu, or dare I say it 'living in the past', the million dollar question being - what's the secret of Tull's longevity?
How many other bands can claim such a loyal and devout following, stealthily playing 70 plus gigs a year and continuing to add to their worldwide sales of 60 million plus albums?
Ian would have you believe it's not just clean living, conviction, self-management, but giving the fans what they want. And despite the wear and tear of 40 years, Tull did just that.
Setlist:
My Sunday Feeling, Living In The Past, One For John Gee, So Much Trouble, Serenade To A Cuckoo, Nursie, A Song For Jeffrey, Gypsy¹, Katerina's Theme¹, A New Day Yesterday (incl. Kelpie), Bourée²

[Interval] - For A Thousand Mothers, We Used To Know/With You There To Help Me, 99 Lives¹, Dharma For One, Heavy Horses, Farm On The Freeway, Thick As A Brick, Aqualung, Locomotive Breath²
¹: Anna Phoebe with Tull.
²: Tull with Anna Phoebe.
---
Review by Pete Whalley
Photo by Lee Millward/GRTR!
Alternate view
Album review

---
| | |
| --- | --- |
| | Print this page in printer-friendly format |
| | Tell a friend about this page |