Yee-hah, The Tubes go (wild) west...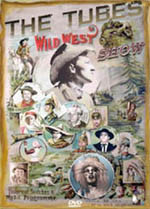 The CD version of The Tubes London gig last December was somewhat disappointing. It merely reprised the usual greatest hits set-list but without the powerful visuals and the new material it made little impact.
As we suspected the DVD is much better, visuals full on, nicely filmed, and the concert in its entirety. And, thankfully, we get the new tracks along with the classics.
When I saw the band's gig in Liverpool (reviewed elsewhere) I thought the western theme was a bit laboured at times, at least musically. It did provide a few new personas for Fee, however.
The turning point in the set was a superb rendition of 'Don't Want To Wait Anymore' a minor hit for the band from 'Completion Backward Principle', Fee's favourite album as confirmed in the bonus interview.
I suggest you watch the extras before the main show including the interview where Fee Waybill is pretty effusive about the origins of The Tubes and his early life on the plains of Texas.
Unfortunately the interviewer is amateurish, with his questions recorded off-microphone. Whilst he lets Fee wax lyrical, and Waybill is an excellent and articulate raconteur, there is little structure and so due to time constraints the recording history of the band is only touched upon briefly. Arguably this is more interesting to fans. And we still don't know how The Tubes got their name because the interviewer fails to pick up the lost thread.
The interview does reveal the psychedelic leanings of Roger Steen's sixties band, for whom Fee was originally a roadie. This psychedelia comes out in Steen's guitar playing style, and the DVD is a very good showcase for his gutsy and straight-ahead technique.
This DVD will be a great souvenir for those who saw last year's tour, and an essential purchase for fans who have been waiting for such a release since 1981's 'The Tubes Video'.
****
Review by David Randall
Related>> Album review
Related>> Gig review
Related>> Interview