THE TUBES 'Wild In London ' Snapper SMACD905 (2005)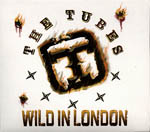 Another Tubes live album? Another version of 'Mondo Bondage'. A drum solo? Can the world take it?
In the two decades since The Tubes left Capitol, fans and others have been serviced by a legacy of cheap priced best of compilations in different shapes and forms. When the band have unleashed new material as on 1996's 'Genius of America', it's actually pretty good.
Their return to UK soil last December for their 'Wild West Tour' was always going to be a greatest hits showcase but the band debuted several new songs which were quite brilliant. One can only hope these tracks feature on the accompanying DVD because they're not on here.
'Wild In London' recorded at Shepherd's Bush Empire plays safe, cherry picking the signature tracks from the band's albums and including the rarely-performed-live 'Halos' from the first album. But essentially this is the same set list as the 'Tubes World Tour 2001' CD.
For the London gig, the band were augmented by a female singer, the predictably-titled Beki Bondage, who reprised the much-missed Restyles role on 'Don't Touch Me There'.
The DVD is probably a better bet because The Tubes were always a very visual band and even in pared-down form for what was essentialy a lower-key club tour they came across convincingly. Tracks like 'Russell Chaps Intro' with its take on disco classic 'The Hustle' lose something in the translation from stage to CD. Similarly, on what is a somewhat economical CD set-list it does seem criminal to include Prairie Prince's drum interlude.
Whilst the passage of time hasn't exactly dimmed the power of classics like 'TV Is King' and 'No Way Out', Waybill does sound stretched at times on vocals. But, you can't help admiring his enthusiasm for reprising the likes of 'White Punks On Dope' and 'Mondo Bondage' replete with stack heels and chainsaw. (Yes, you'll just have to see the DVD).
Although the band have changed personnel over the years things seem to have stabilised with Steen, Waybill, Rick Anderson and Prince from the classic line-up joined by keyboard players David Medd and Gary Cambra. In full flight, The Tubes create a wonderful noise with a harmonic complexity reminiscent of Zappa and Utopia. Steen in particular provides incredibly fluid, funky and spaced out guitar.
Hopefully the band will now get a new album together as it's 10 years since 'Genius' and long overdue.
***
Review by David Randall
Related>> DVD review
Related>> Gig review
Interview
TV Is King
© 2005 Snapper Music. All rights reserved.