Just witnessed your best live gig?..send us a review!
THE TUBES
Liverpool, Carling Academy 7 December 2004
The last time I saw The Tubes was post-punk period when the band were delivering the sharply focused 'Remote Control' album. Now, some 25 years later, with some original members missing and without a record contract, could The Tubes still deliver?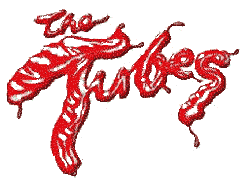 The answer has to be a resounding, yes! With Waybill going through as many costume changes as he could stuff into the back of a transit van, this may have been a pared-down show compared to the glory days, but it was nevertheless hugely enjoyable entertainment.
The Wild West theme was a hoot, threatening to intrude slightly as they returned to some classic western themes between numbers. However, once they reached the superb ballad 'Don't Want To Wait Anymore' (a minor hit from 'The Completion Backwards Principle' in 1981) the gig went into top gear.
The band were even daring enough to perform several new songs, a portent of the new album to come. Keyboard/guitar player Gary Cambra's 'My Asylum' didn't quite cut it in a fairly rowdy club situation, but 'Life Is Pain' and 'Talking To The Moon' gave Roger Steen the chance to crank up the wah-wah as he had been threatening all night. The results were magnificent.
The Tubes may have confused their fans in the early eighties because they went all AOR and radio-friendly, no doubt under severe record company pressure. The visual originality and lyrical wit present on their earlier offerings took a back seat. This new approach no doubt confused many, not least the record labels, but the Tubes survived for a few more years on the strength of their consummate musicianship.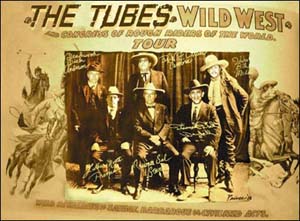 Waybill hasn't lost any of his stage presence and introduced us to several new personas tonight, whilst reviving the classic stack-heeled 'Quay Lewd' for a rousing version of 'White Punks On Dope' (one of the classic rock anthems of the seventies) and of course the inevitable 'Mondo Bondage'.
Sadly, judging by the plethora of grey hair and beard in the audience, this may have been an old man's gig. But, hey, The Tubes can teach young upstarts a thing or two about stagecraft and - carefully and preciously handled - their time could yet come again.
Set List:
SPAGHETTI OVERTURE
RIDERS IN THE SKY
COUNTRY BEAUTY
SHEíS A BEAUTY
DONíT TOUCH ME THERE
UNDER THE DOUBLE EAGLE
MAD COW AUCTIONEER
I SAW HER STANDING THERE
MY ASYLUM
AGUENA SALE LA ROSA
WHAT DO YOU WANT FROM LIFE
TUMBLING TUMBLE WEEDS
RUSSELL CHAPS INTRO
TIP OF MY TONGUE
DONíT WANT TO WAIT ANYMORE
LIFE IS PAIN
TALKING TO THE MOON
DRUMS
STAND UP AND SHOUT
WHITE PUNKS ON DOPE
ENCORE
MONDO BONDAGE
HALOES
TALK TO YA LATER
Review: David Randall