THE KINKS 'You Really Got Me/ It's All Right/Misty Water' CD single, Sanctuary SANXD317 (2004)

Oh, the good old days of vinyl. This is actually reissued on a genuine 7 inch bit of plastic as well as boring old CD. All we need to go with it is a fully functional lava lamp.

With The Kinks back in fashion (in a dedicated follower sort of way?), (cue the recent "Village" package and Dave Davies' solo set), Sanctuary have seen fit to release one of the definitive pop singles, to celebrate the 40th anniversary of its No.1 chart success.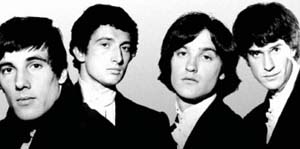 When we ask our parents to name a Kinks track it will almost invariably be 'Waterloo Sunset' but for those proto-rockers amongst us, 'You Really Got Me' did the business. It's essentially aural sex, and a gritty guitar rolled into a near-perfect 2:17. Many people regard it as the seminal heavy metal riff that paved the way for a generation of wannabe fret smashers.
There is talk of some reunion gigs, no doubt as soon as Dave recovers from a suspected stroke. We wish him well and salute one of the truly influential tracks of the past four decades. There was of course much more to the Kinks than two minutes of nascent heavy metal but for the moment, light the candles.
*****
Review by David Randall
Related>> Album review(The Kinks)
Related>> Album review(Dave Davies)