THE KINKS 'The Kinks Are The Village Green Preservation Society' Sanctuary 3CD (2004)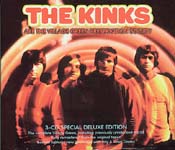 November 1968 and one of the great, nay classic concept albums.
Think Beach Boys and Smile, the Beatles and Sgt Pepper, and you get the importance of this release. Not a big hit at the time (an injunction preventing them from touring the US at the time didn't help), but it's a great and now immensely collectable set all the same.
The Kinks started the whole riff generation with their 'You Really Got Me' hit a couple of years earlier, and the band were lead by guitarists Ray and Dave Davies.
The title track kicks things on in whimsical fashion - not quite folk rock but classic and enjoyable all the same.
Most of the tracks are 3 minute typical 60s, and all could have been potential singles (many were!). Stand out track however is 'Last Of The Steam Powered Trains' (a lengthy 4 ½ minutes), an excellent riff based blues track very reminiscent of Smokestack Lightning.
At the time the Kinks must have rated along side the Stones and Beatles for influencing the 70s rock scene, no matter how psych or pop some of the songs were. Looking back this album must rate along side Brian Wilson's Smile.
This three CD set covers everything you need you know about the album. Disc 1 features the original stereo album, with bonus tracks, while Disc 2 is the mono version (different mono mixes), again with bonus material, while Disc 3 is all additional material.
In those days mono and stereo versions were very different mixes, while singles were also often unique versions. There's also unreleased versions, associated singles and some tracks from the US 12 track version which were not released on the UK 15 track version. Add on some BBC Sessions and you really do get the complete works.
*****
Review by Joe Geesin
Related>> Album review(Dave Davies)


£12.99