DAVE DAVIES 'Bug' Angel Air SJPCD179 (2004)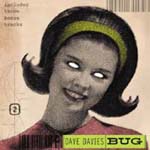 Dave Davies is perhaps known as one of the guitarists of the legendary Kinks, the other being his brother Ray.
Solo albums from Dave are few and far between. But this is a gem; beyond Kinks, a strong AOR set with energetic leanings. Far from punk but nearer new wave pub rock in a complementary way.
Opener 'Who's Foolin' Who' could have been a hit anytime from the late 70s onwards.
Dave can still churn out riff or two, and this album will please anyone who likes rock a bit heavier than the Kinks. In fact comparisons with his former band are only occasionally justified.
The 60s sound does come back and forth, especially in the twangy sound of 'The Lie'.
A surprisingly enjoyable yet totally laid back effort.
***
Review by Joe Geesin
Related>> Album review(The Kinks)


£12.99
Who's Foolin' Who

© 2004 Angel Air Records. All rights reserved.