STONE THE CROWS Reissues (River Records) (2005)

With a new Rory Gallagher compilation hitting the racks, a re-evaluation of Stone The Crows is probably long overdue.

They shared some connection with Gallagher, both were a phenomenon in the early seventies, and both partial to a bit of gutsy, funky and blues-based rock 'n' roll.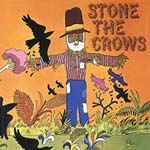 These albums complete the picture, as 'Ode To John Law' (1970) and 'Ontinuous Performance' (1972) have already had a much-needed release on River Records.
The eponymous debut (RIVERCD045 ****) opens with a blues belter featuring two of the best blues-rock vocalists this country has produced: Maggie Bell and Jim Dewar.
The joint approach on vocals (echoed by the band's contemporaries Robert Palmer and Elkie Brooks in Vinegar Joe) continues on 'Raining In Your Heart'. This track cracks along at a fiery pace with some super Les Harvey guitar and John McGinnis' keyboard interjections.
Two covers (a Josh White song 'Blind Man' and the Beatles' 'Fool On The Hill') give Maggie Bell the chance to stretch out with bluesy accompaniment from Harvey. 'I Saw America' filled one side of the original LP and features a number of blues rock to jazz themes with McGinnis' keys and Harvey's guitar to the fore. In places, they sound like The Doors at their moody best, with Harvey's input always tastefully economical, much like Robby Kreiger.
When you consider that Stone The Crows also had Colin Allen on drums (ex-John Mayall, later with Focus) this was a veritable 'supergroup' at the time. The band were a major draw on the live circuit in the UK but never achieved wider success.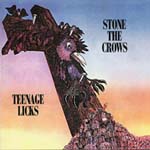 1971's 'Teenage Licks' (RIVERCD046 ***) was voted one of that year's best albums by several music papers and also consolidated Maggie Bell's status as one of the best female rock vocalists.
Ronnie Leahy replaced McGinnis on keyboards whilst Steve Thompson came in for the departed Dewar. Essentially this was a different band, but the funky blues rock continued.
If anything, there was a touch more rock 'n' roll on this album, and in places it has the feel of The Faces with a female vocalist.
'Mr Wizard' and 'One Five Eight' shows their ability to produce punchy riff-driven tunes within a five to six minute time frame whilst 'Seven Lakes' veers towards jazzy prog with more than a nod to Traffic.
These two albums are straight reissues of the originals, and it's a pity they couldn't have been bolstered with some bonus material or outtakes. This is, though, a minor gripe. These reissues will be a welcome replacement for dusty vinyl.
Review by David Randall

Raining In Your Heart (from 'Stone The Crows')
© 2005 River Records. All rights reserved.