MIDNIGHT FLYER Angel Air SJPCD198 (2005)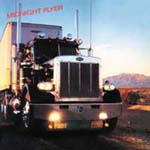 This album originally saw the light of day back in 1981 and was the only release by the band. But who were they? Well the line-up included vocalist Maggie Bell (ex-Stone the Crows), original Whitesnake drummer Dave Dowle and future Rick Wakeman guitarist Antony Glynne, plus Bad Company's Mick Ralphs produced the album. All this and the band were taken under the wing of Led Zep manager Peter Grant.
It's an album of well-played and crafted blues rock with a touch of soul, mainly due to the wonderfully earthy tones of Maggie Bell (nearest comparison would be Tina Turner in her classic 70's guise).
There are plenty of rockers like 'Hey Boy' and 'French Kisses', but Bell comes alive on the slower, soul tinged tracks like 'In My Eyes'. There are two bonus tracks on this remastered re-release including the good time feel of 'Rock 'N' Roll Party' plus very informative and interesting sleeve notes.
Sadly the band never made a second album as they were overseen by Led Zep manager Peter Grant, who withdrew from the music world after the death of the late, great John Bonham and this effectively saw the end of this band as well.
Certainly one for Maggie Bell fans and those who enjoy classic blues rock.
***
Review by Jason Ritchie


£12.99