STONE THE CROWS Reissues (River Records) (2004)
Stone The Crows will always be remembered for one tragic event. Thankfully, the incident doesn't happen that often but a May night in 1972 is a cold one in rock history. Band founder and guitarist Les Harvey was electrocuted when he touched a live mike whilst performing in Swansea.
From the time of this incident, the band never recovered. 1972's 'Ontinuous Performance' actually featured some of the sessions recorded by Harvey before his death, but his place was filled by Jimmy McCulloch. He was another tragi-figure, and although he went on to high-profile work with Paul McCartney and Wings lost out to booze and substance abuse in 1979.
They were such a great band, Stone The Crows. A real raunchy, funky rock band, but their focal point was actually a lady: Maggie Bell. She approached her role with a passion and fire that was just beyond her peers at the time and she subsequently won several national music paper awards. With John McGinnis and Jimmy Dewar providing keys and bass respectively (replaced by Ronnie Leahy and Steve Thompson in 1972), ex-John Mayall and future-Focus Colin Allen on drums, this band couldn't really fail.
In their short timespan they did win many plaudits. Their 'Teenage Licks' album, one of the critics' favourites of 1971, further established their voice in the mainstream rock fraternity and several festival and tour appearances built the fanbase.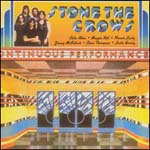 It's good to see these albums again, perhaps a shame that some additional material couldn't be found to bolster the original vinyl timing.
Check out the opener on Ode to John Law (RIVERCD031 ****), 'Sad Mary', and 'Love' with its insistent and infectious riff whilst Curtis Mayfield's 'Danger Zone' highlights Maggie Bell's slow blues. Their last album, Ontinuous Performance (RIVERCD032 ****) is the more refined of the two; 'King Tut' with its funky keyboard shuffle and Harvey's restrained counterpoint, Leahy's 'One More Chance' is a great vehicle for Bell whilst the classic 'Penicillin Blues' still featured in her live act for several years. She semi-retired to Holland in the eighties, whilst Dewar went on to further success with Robin Trower. Dewar, one of the great unsung rock 'voices', died of pneumonia in 2002.
Review by David Randall

On The Highway (from 'Ontinuous Performance')
© 2004 River Records. All rights reserved.