STEVE HACKETT Please Don't Touch
Charisma/Virgin 2005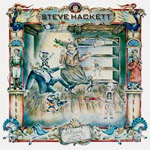 Where his solo debut 'Voyage of the Acolyte' was a busman's holiday from the day job with Genesis, its 1977 successor was recorded after Steve Hackett's departure from the band.
Perhaps this part-explains why it is so distinct musically from 'Voyage ...' and indeed the rest of the guitarist's '70s Charisma catalogue, newly remastered and bolstered with alternate takes and live versions of tracks.
Where his band mates were all over his debut, they are absent here. Hackett turned to America for help on 'Please Don't Touch' and back across the water came the likes of Richie Havens, Randy Crawford and members of AOR giants, Kansas, to lend a hand with his brother John, Brit session men and the ever-reliable John Acock in the production and engineering chairs.
Received wisdom may have it that prog rock is a quintessentially European affair (nonsense) but it follows that Hackett (a man who rocks pastorally) would not try to fix something that wasn't broken and make another fine progressive rock album with this pan-Atlantic talent.
Recorded in London and Los Angeles, 'Please Don't Touch' however is a melange that skips from the disparate musical corners of the jolly English music hall romp of 'Carry on Up the Vicarage - A Musical Tribute To Agatha Christie' to the FM-friendly balladeering of 'Hoping Love Will Last' buttressed by finely wrought complex instrumental work-outs closer aesthetically to Hackett's former enterprise.
There is no denying the strengths of the constituent parts of this album - everything is well-written and executed by a highly professional team. But the diversity of genres ultimately denies the album a cohesion.
Regard this as an 'industry' capabilities showcase by an artist with a career to progress and a point to make to one of his largest markets, and it works - Hackett is undeniably a gifted writer and musical interpreter.
Fans went along with it but in all probability, were quietly relieved when Steve brought in album number three, the soaring 'Spectral Mornings' - and a return to more English sensibilities.
***
Review by Peter Muir
Related>> Album Review (Voyage Of the Acolyte)
Related>> Album Review (Spectral Mornings)