STEVE HACKETT Voyage Of The Acolyte
Charisma/Virgin 2005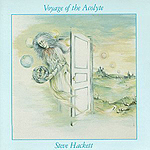 The first of a slew of great value reissues of the former Genesis axemanís solo output, 1975ís Voyage Of The Acolyte was made shortly after the release of the bandís Lamb Lies Down On Broadway and the departure of singer Peter Gabriel.
It was a time of solo projects for the band: Phil Collins drumming with Brand X (amongst others) and Mike Rutherford working on projects with former member, guitarist Anthony Philips.
Hackettís guitar-work played a major role in trade-marking the Genesis sound and with Collins and Rutherford guesting here together with Sally Oldfield, this debut complements well the bandís period prog output.
Performance and production values are constantly high and the album showcases Hackettís compositional talents, herein applied to a form of concept album based on the Tarot, with each track based on an individual card.
Cello and oboe vie with mellotron and ARP synth in a space occupied in the main by Hackettís precise yet fluid playing, with plenty of variation of pace and runs of pure melody punched with sufficient staccato dissonance as to keep us sitting up and paying attention.
Critical and public acclaim greeted the release of this record, boosted here with a live version of "Ace Of Wands" and an extended 17-minute version of "Shadow Of the Hierophant" almost solely asserting its credentials as a slice of top notch prog of the time.
****
Review by Peter Muir
Related>> Album Review (Please Don't Touch)
Related>> Album Review (Spectral Mornings)